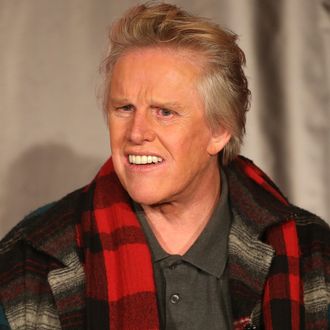 It's a perfect crime!
Photo: Frederick M. Brown/Getty Images
Make sure to see the very busy Gary Busey doing his thing Off Broadway. The Oscar-nominated actor and star of Sharknado 4: The Fourth Awakens is joining the cast of Perfect Crime for a two-week engagement from November 21 to December 4 this year. He'll play Lionel McAuley, "The Baseball Bat Killer," in the whodunnit, which is also the longest-running Off Broadway play. Catherine Russell, who holds the world record for having never taken a sick or vacation day in the show's 30-year history, will star opposite Busey. She recently appeared on the Reply All podcast to discuss the history of Perfect Crime, which is known both for its longevity and its horrendously low Yelp reviews — though, of course, Busey might change that.