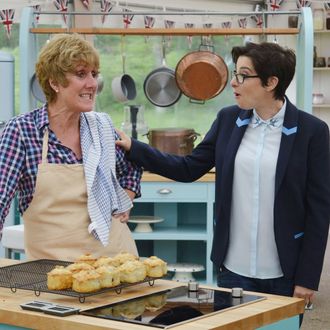 A good bake all around.
Photo: Mark Bourdillon/BBC
If you had two randomly selected friends in Britian and you called them both last night at 8 p.m. to ask what they were watching on TV, odds are that (a) they would wonder why you were spending so much on international calling fees, and (b) at least one of them would be watching The Great British Bake Off. That's because, according to a report from the Telegraph, more than half of all people watching television at that time on Wednesday night tuned into the final episode of the show's seventh season. The program peaked with 14.8 million viewers, a new high-water mark for the series, and a testament to the power of Mary Berry, who, sadly, is not long for the show. In America, we're only ever as unified by sports and zombies.