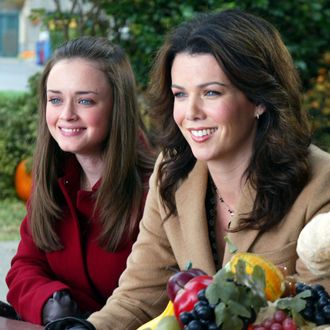 Photo: Mitchell Haddad/CBS Photo Archive via Getty Images
On the second evening of the inaugural Gilmore Girls Fan Festival in Washington Depot, Connecticut, the hosts of beloved podcast The Gilmore Guys welcomed Gypsy, Lane, Caesar, Lulu, Brian, Jackson, Andrew, Kirk, Zack, April, Morey, Miss Patty, and Tom — whose human names you may look up privately — to take questions about the series in front of a large audience of rain-soaked superfans. To keep things orderly, the cast members were split into four subsets before coming together as a supergroup: "The Women of Stars Hollow," "The Men of Stars Hollow," "Friends of Luke," and "Hep Alien."
In the first group, Rose Abdoo (Gypsy) spoke about fan fiction that predicted a future in which she and Andrew got together — romantically. She disagreed. "Gypsy — she's got a crush on Lorelai." Oh, yes, the crowd agreed. In any scene Lorelai and Gypsy are in together, Abdoo said, you can tell Gypsy is delighted to be in Lorelai's presence, or to be in her home, or to be able to choose a pink ribbon over a blue ribbon after she and Luke split up. As Abdoo explained: "Lorelai was talking about me liking Rolos in a scene and even watching it at home, I was like, 'That's right! I do like Rolos!'"
The hosts of The Gilmore Guys, Kevin T. Porter and Demi Adejuyigbe, asked Aris Alvarado (Caesar) about something fans of the show had recently discovered online: Before appearing in the role of Caesar, Alvarado appeared in the role of "Graduate" during Rory's graduation ceremony from Chilton. Was that Chilton graduate also Caesar? "That was Caesar," he confirmed. "That was Caesar." Adejuyigbe pressed him further: "So the question then becomes: Is Caesar a child working at Luke's, or just an older man who graduated?" "Well, that's a couple years later, when you see him working at Luke's," Alvardo responded. "So I'm like … 20, 21?" "Okay, so the math checks out," said Porter. "It's canon." It's canon.
What about Tom the contractor? Is he the same as Bob the hardware-store owner from Bunheads, both of whom are played by Biff Yeager? No, sadly, Yeager confirmed that they are not the same man. At best, they are brothers. But did you know that Tom originally auditioned for the role of Taylor? "Then they called me back for Tom," Yeager said, "and history was made."
John Cabrera (Brian) was the only member of the Hep Alien section not actually playing his instrument during their jam scenes, but Porter heard he'd picked it up again recently and was getting better. Is that true? "Yes," Cabrera said. "Bullshit!" Todd Lowe (Zack) shouted. He's practicing bass? "You're not writing your online series, planning your Dungeons and Dragons campaign?" Cabrera eventually conceded that he'd been practicing bass for the Hep Alien reunion show at the ATX festival but had not, actually, been doing so recently. Damn.
After taking a few questions from the crowd, the panel hosted a Gilmore Girls trivia session featuring both insane questions that audience members knew instantly ("What was the song Caesar danced to in the diner?" "How did we learn Kirk's last name?") and insane questions audience members didn't know — even though one fan seated in the outdoor tent thought she knew, so she ran into the building and then was wrong. ("What was Hep Alien's band slogan that was printed on their flyers?" It's "We're out there.")
And then the panel was over and everyone went back out into the rain.