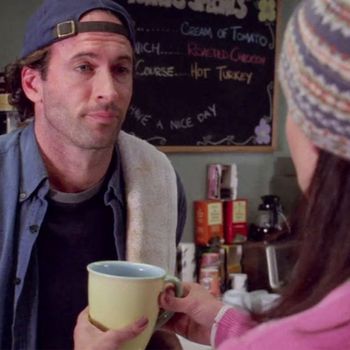 There are many questions that rack the fans of Gilmore Girls. Why did Kirk have so much time to do every job? What did Emily do on the days other than Friday? When exactly did Rory do all that reading? But perhaps the most burning question has always been: How do I make a cup of Luke's coffee? Well, now we know. Longtime Stars Hollow fan and avid cook Kristi Carlson has written the unofficial cookbook for Gilmore Girls fans titled Eat Like a Gilmore. The following is an excerpt of her take on Luke's coffee. The book is available now.
**************
A Cup O' Luke's
In order to make a great cup of coffee at home that is as close as you can get to a cup at Luke's, you must follow the basics I mentioned in Coffee 101. The only other item you need in order to hit a home-run cup like Luke's is to find the right type of coffee to suit your taste (but know that diners tend to serve medium roasts).
It's that simple. You don't necessarily have to go searching and paying top dollar for some artisan coffee to get a decent diner-worthy cup. Let's face it, diner coffee is its own breed of coffee, just like gas-station coffee, just like big-chain coffee places. That's not to say diner coffee is bad; it's just in its own category of coffee.
Luke's coffee should be a light/medium (more on the medium side) roast that's not very acidic. As I mentioned before, medium roasts tend to be more balanced, with a nice body, and are considered the standard Americana of roasts. Oooh … kinda like Luke! So, follow the basics, go with a Breakfast Blend–type of roast, and don't be surprised if, after tasting the difference in your coffee, you soon find yourself wearing a backwards baseball cap.