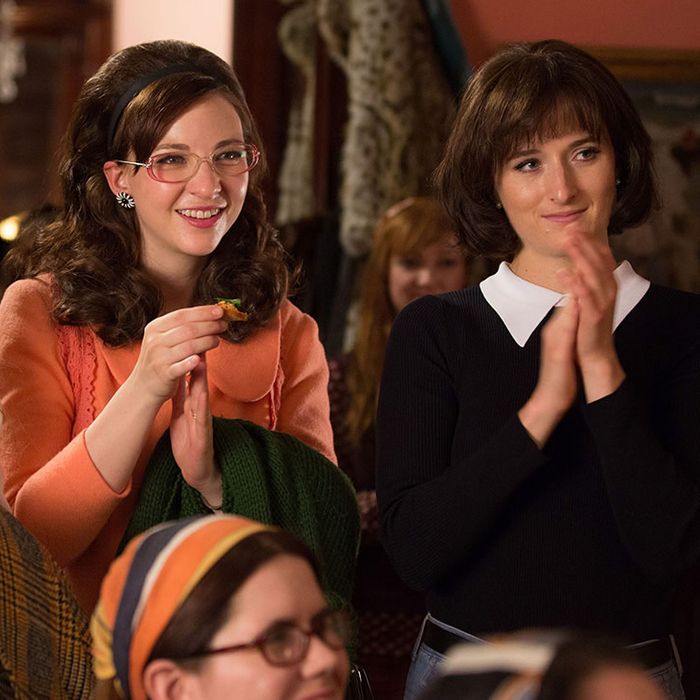 L-R: Genevieve Angelson, Erin Darke, and Grace Gummer.
Photo: Amazon
There is probably a way to watch Good Girls Revolt without comparing it to Mad Men. But so far, I have not figured out how. That seems especially unfair considering that this new Amazon series, which begins streaming Friday, is inspired by the 1970 gender-discrimination complaint filed against Newsweek by numerous women who worked at the magazine. By placing Good Girls Revolt, created by Dana Calvo and based loosely on a book by Lynn Povich, in the identical context as a Matt Weiner show called Mad Men, it's like holding these women up to an unfair male-set standard yet again.
Of course, while Mad Men traced the evolution of Don Draper, it was just as much about the Sterling Cooper women who were trying to scrap their way to power. (What's the more enduring image of Mad Men at this point: this or this?) Good Girls Revolt sets out to cover similar gender-equality territory, while also delving into sexual tensions and romance within the workplace, the tumultuousness of the late 1960s (the calendar turns from 1969 to 1970 in the middle of the first season), and the tenacity and hard work required in the media business. On this drama, media doesn't mean advertising. It involves journalism and the daily grind of being an editor (male), staff writer (male), reporter (mostly male), and lowly researcher (always a woman) at a magazine called News of the Week, lest it be confused with Newsweek. But the milieu is similar enough to Mad Men to keep the two aligned in one's mind. The Amazon series also doesn't do itself any favors by making choices — like using the song "Is That All There Is?" that was so prominently featured in the Mad Men episode "Severance" — that practically invite viewers to have flashbacks to the AMC series. (There is also a photo editor named Ned (Michael Oberholtzer), who could easily pass for Stan Rizzo's long-lost doppelgänger.)
But perhaps the biggest issues with Good Girls Revolt are its tentativeness and slow pacing, both of which prevent it from being a truly exciting viewing experience. It so dutifully sets out to honor the struggles of these women — and drags its feet so much to get to the filing of that Equal Employment Opportunities Commission complaint — that it feels more dutiful than daring. Good Girls Revolt is a show about women who did something gutsy and revolutionary, but based on the first seven of its ten episodes, it seems too timid to take any significant chances.
The problems confronted by the show's central women — Patti (Genevieve Angelson), the free-spirited, determined researcher having an on-again, off-again romance with her reporter partner (Hunter Parrish); Cindy (Erin Darke), the photo assistant experiencing a delayed sexual awakening; Jane (Anna Camp), a talented journalist who believes she's destined for marriage instead of a career — are all legitimate and recognizable, but also feel like narrative arcs we've seen in other films and TV shows before. That applies to the more prominent male figures as well, including editor Finn Woodhouse (Chris Diamantopoulos, a.k.a. professional douchebag Russ Hanneman on Silicon Valley), who — and you're not going to believe this — is constantly choosing work over his family. The actors all do a respectable job of breathing life and humanity into these characters — Diamantopoulos and Darke, in particular, pop off the screen — but you keep waiting for them to do something that will genuinely surprise you.
The more peripheral people on the show — including Sam Rosenberg (Daniel Eric Gold), a reporter with a crush on Jane who slowly reveals a sensitive side, and Eleanor Holmes Norton (Parenthood's Joy Bryant), the very real D.C. congresswoman who, back in the day, was the attorney who helped the women of Newsweek file that EEOC case — are much more interesting, to the point where you start wishing the camera would pivot and just start following them more frequently. That goes double for Nora Ephron, another character based on a genuine human and played with a compelling, take-no-b.s. confidence by Grace Gummer. Ephron is central in the pilot but, after she leaves her job at News of the Week in the first episode, she rarely appears, at least in the portions that Amazon made available in advance. That's a shame. I would watch an entire scripted series focused solely on Norton or Ephron in half a heartbeat. ("Everything is a scripted series" is truly the new "Everything is copy," right?)
Most of the time, watching Good Girls Revolt involves imagining what kind of series it could be rather than appreciating what it is, though it does have some smart moments. In the pilot, after Ephron announces she's quitting because national editor Wick McFadden (Jim Belushi) refuses to publish something she's written, McFadden sends her on her way with words that will come back to sting him in due time: "Your name is all you have in journalism. Good luck, Nora Ephron." In episode six, when Patti attempts to recruit Denise (Betty Gabriel), one of the few African-American women in the office, to the complaint-filing cause, Denise basically explains intersectionality to her by asking about a recent Black Panthers story on which Patti worked.
"Did any black people have anything to do with researching, writing or editing that story?" she wants to know, raising a valid question that awakens Patti, a woman who sees herself as progressive, to her own blindness to the issues that other "others" (read: people of color) face.
More moments like that would be welcome on Good Girls Revolt, and later episodes suggest that maybe things will take a more promising turn. I can only hope that's the case as the show marches further forward into 1970 and, ideally, shakes itself out of its complacency to reveal what it really looks like when a bunch of nice young ladies finally get mad as hell and decide to stop taking it anymore.