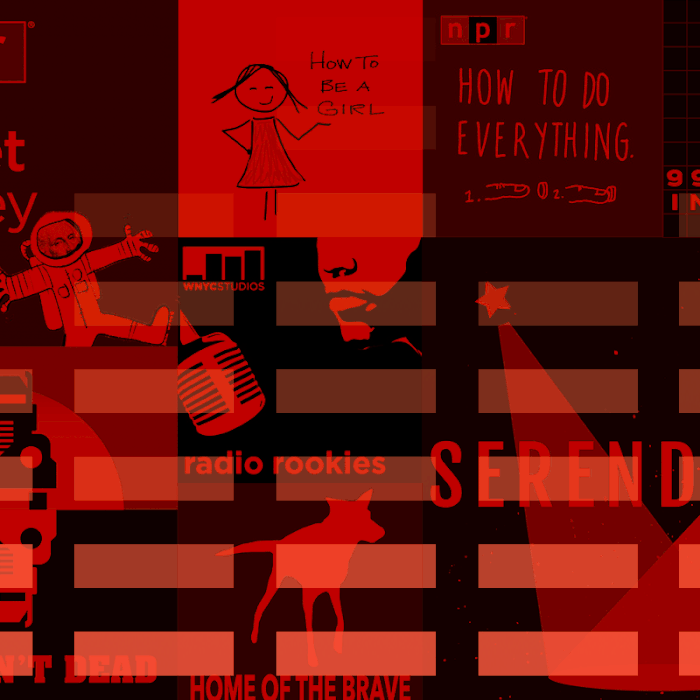 Photo-Illustration: Vulture
This week we're providing a series of Vulture Hacks: expert advice, gear guides, and recommendations to help you maximize your entertainment experience.

Podcasts are often celebrated for their capacity to dive deep, whether it's a searching interview that gets stronger as it goes, a conversation that builds upon itself, or an investigative narrative that leaves no stone unturned. There are even some, like Dan Carlin's beloved Hardcore History series, that regularly leave the realm of reason, bolting past the three-hour mark.
Shows like these capitalize on the medium's absence of a built-in time limit, but even hour-long run times can be a heavy lift for some listeners. Good thing not all great podcasts play the long game. Below, you'll find a list of short podcasts worthy of your time. I'm classifying "short podcasts" as shows whose average episode lengths fall under 25 minutes. That's a bit of a soft threshold, though it's meant to be a proxy for shows that feel bite-sized, flow breezily, and wrap tightly. Let's get to it.
Why Oh Why? (Culture/Sociology)
Andrea Silenzi, the host and creator of this bizarre podcast, is a genius of the cringe. Her show interrogates romance and human relationships in the digital age, but it does so in a manner that defies shape and form — rapidly shifting between and mixing fiction, interview, memoir, and nonfiction narrative. Silenzi is a dogged social anthropologist, obsessively digging away at the particulars of what makes us tick as companionship-seeking animals.
Don't miss: "The Single Straight Guy Focus Group"
Home of the Brave (Documentary)
A collection of postcards from the edge of the world. With each episode, Peabody-award-winning author and radio producer Scott Carrier sketches out scenes from places that are confusing, troubling, or simply forgotten: the Syrian refugee trail, a string of burnt churches across the South, the political conventions. It's powerful and often heart-breaking, the experience ever elevated as you realize that Carrier is driven by a need to figure things out for himself, even when he seems barely able to.
Don't miss: "My Trip To Palestine"
Getting On With James Urbaniak (Fictional Monologue)
Often sad, often funny, and very often sad-funny, Getting On is a fiction podcast that extracts a wealth of complexity from its simple construct: a conceit, a script, and a monologue. (Okay, sometimes it's dialogue.) James Urbaniak is a wonderful performer, and the monologues, crafted by what appears to be a rotating stable of writers, are taut, daring experiments in structure. It is consistently engaging, and in its better moments, the show comes damn close to being art.
Don't miss: "The Big Comeback"
Planet Money (Finance)
Planet Money has seen a lot of change since launching in 2008 off the success of "The Giant Pool of Money," its award-winning examination of the Great Recession that first ran on This American Life. Since then, one of its founders has gone off to launch a podcast company and another has gone off to write for magazines (and even consult on an Adam McKay movie). But the show and its ever-evolving team remain among the best in the business. From decoding ISIS's budget to tracking down Chinese shell companies, Planet Money produces a constant churn of intelligent and accessible stories about the economic world that eats us all.
Don't miss: "Cow Noir" and "We Set Up An Offshore Company in a Tax Haven"
Dunkumentaries (Sports)
This quirky ESPN mini-series commits itself to the most iconic move in basketball: the dunk. Dunkumentaries is a great example of how a podcast can find surprising stories if it's hell-bent on going really, really deep into a subject. A small sample: the idea that we might be close to discovering all the dunks that are humanly possible, the hunt for video evidence of the first dunk in women's basketball, the influence of Vince Carter in Canadian basketball. It's wonderful, smart, fun stuff, and I wish its its five-episode run were so much longer.
Don't miss: "The Yin and Yang of Basketball"
Alice Isn't Dead (Fiction)
A trucker drives across America in search of her wife, encountering strange and mysterious things along the way. This audio fiction drama, which ran its ten-part first season earlier this year, comes from the team behind the wildly successful Welcome to Night Vale podcast, seamlessly inheriting that show's creepy aesthetic and fascination with the American landscape.
Start with: "Part One, Chapter One: Omelet"
The Gist (News Digest)
The daily news magazine hasn't fully broken through in podcasting just yet, but the format finds its strongest frontiersman in Mike Pesca and his show, The Gist. Every weekday, the NPR alum serves out a furious stream of interviews, analysis, and opinions that stretch across a whole universe of concerns, from politics to sports to movies to vexillology. Always entertaining and always interesting, The Gist is the perfect platform for Pesca's free-wheeling, world-beating, and thoroughly breathtaking fun house of a mind.
Don't miss: "Jesse Eisenberg"
First Day Back (Documentary)
First Day Back follows Canadian documentarian Tally Abecassis as she documents her attempt to get back to her career after an extended maternity leave. Things turn out to be somewhat difficult and complicated, and Abecassis is forced to confront both the specificity and the universality of her experience figuring out motherhood as a working artist. With a tight ten-episode run for its first season, First Day Back is a breeze to get through, and it's the kind of show that gets more rewarding the deeper you get into it.
Start with: "Getting Back Out There"
99% Invisible (Design)
Roman Mars is a legendary design supergeek, and his show, 99% Invisible, which serves listeners stories about the life of design and the designs that informs our lives, is a temple of thoughtful, practiced observation. Mars is also a godfather figure of sorts among a certain corner of the podcast industry, and his influence is scattered all throughout the iTunes charts. It's almost a cliché to recommend this show when discussing podcasts, but it's well-deserved.
Don't miss: "Supertall 101" and "The Sunshine Hotel"
KCRW's The Organist (Culture)
The Believer magazine may barely be publishing these days, but its affiliate podcast, The Organist, continues to carry its torch of intellectual pursuit and creative enthusiasm with stories, interviews, and conversations that push deeper into the curious mind. Long before The New Yorker figured out its voice on the radio, The Organist has been stuffing its pages into the microphone with reckless abandon.
Don't miss: "The Oracle"
Song Exploder (Music)
Song Exploder comes pretty damn close to being the perfect podcast. At the very least, it is an evolution of the form, doing to individual songs what the most penetrating of interviewers do to people. It deconstructs, contextualizes, and illuminates each song as a cultural artifact, revealing details that would otherwise go unnoticed.
Don't miss: "Sylvan Esso"
Radio Rookies (Documentary)
What is it like to come of age in New York City? Radio Rookies is a slice-of-life project that engages with that question in ways that reflect the diversity of the city. The podcast comes out of a public-radio initiative that puts recording equipment in the hands of budding radio producers across New York, which lends to an often powerful listening experience that benefits from the rawness of the tape and frankness of its correspondent-subjects.
Don't miss: "Why Do I Stay?"
The Memory Palace (History)
A history podcast of the highest order. Meticulously researched and crafted with an ear for poetry, The Memory Palace goes down easy and opens you up wide. Nate DiMeo, its creator, is currently an artist-in-residence at the Metropolitan Museum of New York on the strength of the podcast, and I can't think of a more appropriate (and well-deserved) match of person and place.
Don't miss: "Gallery 742"
Trumpcast (Politics)
It's been a long election season. At this point in the cycle, you've probably found a personal collection of news sources that helps you get through the sinking feeling we're a mere hair-flick away from the end of the republic. (Unless you've checked out altogether, of course.) But I still highly recommend checking out Trumpcast, hosted by Slate's Jacob Weisberg, who does a tremendous job rigorously pinning down every Trump-related development in sight with critical verve. Trumpcast may come off as partisan therapy for some, but a year from now, the podcast will look like a historical record documenting the real-time emergence of Trumpism in America.
Don't miss: "Trump Backers on Trial"
The Heart (Documentary/Narrative)
The Heart spins out stories about human intimacy, but that's putting things far too simply. The podcast is an experience principally built on the strength of moods, tones, and feelings. For this show, a narrative isn't just a story told, it's a story felt. Very few creators working in audio seem to understand the line that separates the two. The Heart rips it apart altogether.
Start with: "First"
How to Be a Girl (Documentary/Parenting)
Anonymity is a powerful thing. It blurs out distractions, strips away boundaries, and provides room to focus attention on core truths. Anonymity is something that audio does very well, and we see the strengths of that dynamic play out in How to Be a Girl, a documentary produced by a single mother about life raising her transgender daughter. Told simply and beautifully, How to Be a Girl is a stunning piece of work.
Start with: "Mama, I'm A Girl"
Serendipity (Fiction)
What's over the horizon for audio fiction? That's the principal concern for Serendipity, an anthology podcast that delivers some of the more experimental takes on the genre. Episodes are hit-or-miss based on your predisposition and tolerance for the avant garde, but it's a project that absolutely sparkles when it swings wide.
Don't miss: "The Lobby"
How to Do Everything (Offbeat How-To)
There are questions you've always wanted answers to, and then there are questions you've never even thought about asking because they don't really cross your mind … until, of course, they do. How to Do Everything is a show exclusively about the latter. An absurdist exercise in reporting, hosts Mike Danforth and Ian Chillag take their curiosity to questions like "how to endure someone talking about their dreams," "how to fake childhood memories," and "how to open a Velcro bag quietly." A ridiculous gem.
Don't miss: "The Sound of Silence"
WBEZ's Curious City (Chicago Life)
Have you ever had a very specific question about the place where you live? Like, how did that neighborhood earn its name, or why does the county beach feel a certain way? Curious City is a show that's built to answer those kinds of questions for Chicago, that great second city. A hyper-local reporting project by Chicago public radio station WBEZ, Curious City is a lovely operation that serves its community and serves up interesting stories for everybody else.
Don't miss: "Why Fireflies Light Up One Neighborhood But Not The Next"
The Message (Science Fiction)
It's a classic horror/science fiction premise: A recording (from outer space!) is mysteriously infecting people, and a young reporter is on the case. But with a strong cinematic atmosphere and above-average production values, The Message operates like a window into the future where audio dramas feel a little closer to network television and mid-budget movies. That might be a troubling proposition for some podcast purists, but for the rest of us, it's something worth keeping an eye on.
Start with: "Episode One"