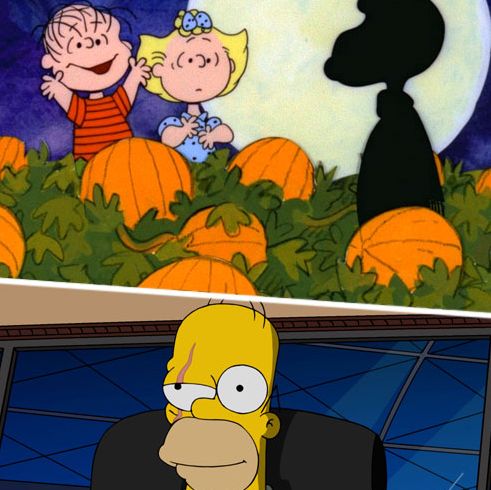 Photo: Netflix, Getty Images, Fox
It's October, which means it's time to dip some pumpkin biscotti into a warm mug of pumpkin-spice chai while watching various Halloween-oriented programs on television and/or the pumpkin-flavored mobile device of your choice.
The following guide to trick-or-treat TV — which covers viewing options that range from scary new anthology series and frightful foodie shows to classic Halloween fare — will help you make the best possible viewing and streaming choices between now and October 31. Will anything on this list be legitimately scarier than the remaining presidential debates? Probably not. But unlike the debates, the following movies and shows will provide a brief escape from election anxiety.
The Halloween Baking Championship (Food Network; airs every Monday in October at 9; episodes also streamable at foodnetwork.com)
Are you one of those people who thinks The Great British Bake Off would be better if contestants were required to make desserts that look like dismembered hands? Then this five-episode competition series — in which bakers must complete a series of Halloween-specific challenges in the hopes of winning $25,000 in prize money — should be perfect for you, and anyone else who prefers their cakes frosted with what appears to be human brains. (By the way, Food Network, as usual, is going all in on Halloween. In addition to this series, it's airing, among other things, a one-off Kids Halloween Baking Championship special, which premiered earlier this week; Halloween Wars; and Cutthroat Kitchen: Tournament of Terror. Check your local listings for airtimes, and check the Food Network website, as many of these are available to stream there as well.)
The Blair Witch Project (streaming on Hulu)
Several scary-movie favorites are available to stream on Hulu this month, including 1975's Carrie and both the original Amityville Horror and the 2005 Ryan Reynolds remake. But if you have to choose just one to watch, make it The Blair Witch Project, the low-budget, handheld shocker that not only inspired a recently released sequel, but changed the game for both viral marketing and found-footage horror.
Poltergeist (streaming on HBO Go and HBO Now)
HBO's streaming apps have also made horror flicks a cornerstone of their new October offerings. (I see you, Jeepers Creepers!) But Poltergeist seems like the most culturally relevant of the bunch, because it inspired so much of Stranger Things and because it features a scary-ass scene in which a boy prevails after being attacked by an evil clown doll. I feel like that second part could be especially cathartic right now. (But not for kids. For God's sake, don't show this to any kids.)
Halloween movie marathon (part of AMC FearFest; October 13 and  31)
This is the 20th anniversary of AMC's annual event in which blocks of programming are devoted to various terrifying film franchises and, naturally, marathons of The Walking Dead. (For the record, the zombie-pocalypse juggernaut returns for its seventh season on October 23.) FearFest offers plenty of freak-outs from which to choose, but if you're like me and feel that a Halloween without John Carpenter's Halloween is like a Christmas without It's a Wonderful Life, then you'll want to tune in for all the Halloween movie marathons on October 13 and Halloween day, when you'll get more than one airing of the 1978 original, plus several of the sequels.
Ash vs. Evil Dead (Sundays at 8 p.m. on Starz; streamable on Starz.com and Amazon)
The second season of this horror series — in which Ash (Bruce Campbell) from Sam Raimi's Evil Dead movies returns to battle more demons summoned by the Book of the Dead — began on October 2. You can jump into new episodes every Sunday night, or stream them on the Starz website — as of this writing, episode one of the new season is available there for free — or on Amazon with a Starz-on-Amazon subscription.
The Simpsons' "Treehouse of Horror XXVII" (October 16 at 8 p.m. on Fox)
Not only does this year's "Treehouse of Horror" episode mark the 27th time that Bart, Marge, Homer, Lisa, and Maggie have come together to send up horror tropes, but it's the 600th episode of the series overall. To celebrate the occasion, The Simpsons' writers are resurrecting Homer's (possibly immortal?) enemy Frank Grimes. For those up for a full-on "Treehouse of Horror" binge, FXX will air a marathon of Halloween-themed episodes all day on October 31, beginning at 11:30 a.m. Or you could always start your own marathon over at simpsonsworld.com.
Tales From the Darkside (streaming on Shudder)
All four seasons of the '80s horror anthology series, with cameos that range from a young Seth Green to Debbie Harry, are now streaming on the year-old AMC-backed horror-focused service, along with a substantial selection of other scary cult favorites from TV and film. Starting October 20, Shudder will also start streaming its first exclusive mini-series, Beyond the Walls, a French creeper about a woman who finds some disturbing things hidden within the structure of a newly inherited house. Subscriptions cost $4.99 per month.
Channel Zero: Candle Cove (Tuesdays at 9 p.m. beginning October 11 on SyFy)
SyFy's 31 Days of Halloween celebration offers plenty of scary movies, including some SyFy originals. But the channel's new anthology series Channel Zero: Candle Cove, which stars Paul Schneider and Fiona Shaw in a thriller about the potentially deadly impact caused by an '80s children's TV show, sounds most intriguing, given its ties to the decade of horror choice these days.
Frankenstein Sundays (Sundays on Turner Classic Movies)
Every Sunday this month, TCM celebrates everyone's favorite ginormous, square-headed monster by airing multiple classic Frankenstein films, from Frankenstein Meets the Wolfman to Young Frankenstein, starring the late, manically great Gene Wilder. Check tcm.com for a full schedule, and also check the site's available streaming movies, which include Frankenstein classics like James Whale's 1931 original.
It's the Great Pumpkin, Charlie Brown! (October 19 at 8 p.m. on ABC)
This year marks the 50th anniversary of the beloved TV special about a misguided young boy who believes in a mythical orange entity, then finds out he's been duped. You know, when you describe It's the Great Pumpkin this way, Linus sounds an awful lot like a Trump supporter.
Hocus Pocus (October 19 at 9 p.m. and multiple airings thereafter on Freeform)
ABC Family may have changed its name since last Halloween, but, as Freeform, it's still putting on its annual 13 Nights of Halloween extravaganza. The cornerstone of this two-week run of gently frightening fare is Hocus Pocus, the witchy '90s comedy that puts a nostalgic spell on millennials every October and brings in decent ratings for the cable network as well. (Last year, about 1.7 million people tuned in to watch the Halloween night broadcast.) As usual, Bette Midler & Co. will kick off the 13 Nights celebration on Wednesday the 19th, when Hocus Pocus airs at 9 p.m. If you don't have the movie on DVD or downloaded, check the full 13 Nights of Halloween schedule to find additional opportunities to watch/set the DVR.
The Rocky Horror Picture Show: Let's Do the Time Warp Again (October 20 at 8 p.m. on Fox)
The once-considered-subversive cult film gets the major-network treatment in this remake. Unlike Fox's recent production of Grease, this musical won't be live. But like Grease and other recent musical productions, expect it to cause some chatter on social media, especially when it comes to Laverne Cox's take on Dr. Frank-N-Furter, the sweet transvestite made famous by Tim Curry, who also appears here as the narrator.
Black Mirror (streaming October 21 on Netflix)
Like every streaming service, Netflix has plenty of chilling movies and TV shows creeping in the corners of its library, including some new options added this month. But certainly the highlight of October for anthology horror fans will be the return of Black Mirror, the British series that's now being produced by the platform that built Orange Is the New Black and Stranger Things. Season three will include six episodes; performances by Bryce Dallas Howard, Gugu Mbatha-Raw, and Mackenzie Davis of Halt and Catch Fire, among others; and plenty of reasons to make us terrified of technology.
Rats (October 22 at 9 p.m. on Discovery Channel)
Morgan Spurlock's documentary about the nasty vermin that skitter through the sewers and streets of New York City, as well as many other cities around the world, screened earlier this year at the Toronto Film Festival and can be seen more widely this month on Discovery. A nonfiction film made with the sensibility of a work of horror, if you can get through it without getting both the heebies and the jeebies, you're a hardier person than I am. Me? I got skeeved out about 30 seconds into the trailer.
Stan Against Evil (October 31 at 11 p.m. on IFC)
If you're sitting at home on Halloween night, why not spend the time previewing a new series while shoving fun-size chocolate bars down your gullet? Stan Against Evil is a new series about an old-school sheriff (John C. McGinley) who teams up with his replacement (Janet Varney, Becca from You're the Worst) to fight unleashed demons in a small New England town. IFC is airing the first episode on All Hallows' Eve, but the series officially premieres on November 2.