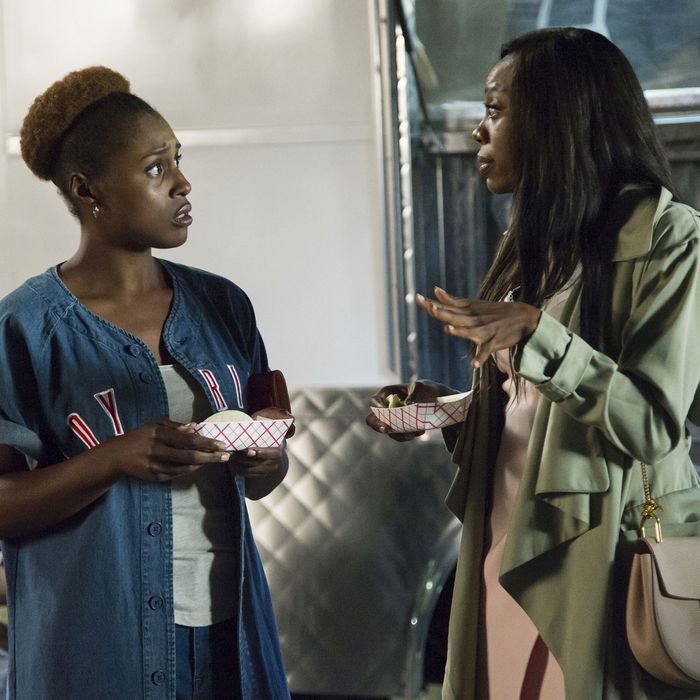 L-R: Issae Rae and Yvonne Orji in Insecure.
Photo: HBO
"Issa, what's 'on fleek'?" These are the kinds of questions that Issa (Issa Rae), the heroine of HBO's excellent new series Insecure, has to answer from white folks at her workplace, a nonprofit that creates outreach programs for public schools. Issa politely ignores them. She doesn't answer the smart-alecky questions of the black school kids she deals with, either, much less observations that aren't even questions, like "You talk white!" Issa loves to rap and is good at it and wants to be part of that world, but resents the casual misogyny embedded in hip-hop. She chafes at the inert niceness of her longtime live-in boyfriend, Lawrence (Jay Ellis), a Georgetown graduate who's been unemployed for a long time because he's too prideful to accept jobs he thinks are beneath him; she loves Lawrence but resents feeling pressured to stay in a relationship that's not going anywhere out of fear of being single forever; she also feels pressured to cut him loose and have lots of colorful, strings-free hookups like her best friend Molly (Yvonne Orji), a lawyer. Of course, the grass is always greener on the other side: Molly would love to have a relationship with a halfway decent, committed man, but too many of both her and Issa's potential love interests don't want relationships, only sex, and everything these women do is treated by men as a pretext to call it quits and move along to the next woman. "Just because we have standards does not make us difficult," Molly tells Issa, sounding as if she wishes that she could believe her own statement.
The show is organized around recurring images of Issa standing in her bathroom mirror, practicing what she's going to say at work or on dates or during nights out with friends; trying on different lipstick to embolden herself to adopt a different personality, trying out rap lyrics she wants to perform someday. She loves herself but also feels dissatisfied with what she sees reflected in the glass; it's always not quite right, never exactly enough. She exists simultaneously in multiple self-contained worlds, and within multiple self-states, navigating her own interior multitudes. She's complicated and real.
And so is Insecure. Co-created by Rae and writer-producer and former The Nightly Show host Larry Wilmore, and co-executive-produced by music-video helmer Melina Matsoukas, this series offers still more proof that, creatively, the half-hour Comedy in Theory is leaving the hour-long drama in the dust. The show also confirms that there's plenty of talent percolating outside of the TV industry's established channels: Rae honed this character in her web series, The Misadventures of Awkward Black Girl, and Insecure imports much of its progenitor's DNA, adding production values, a strong narrative through line (built around Issa's and Molly's relationships and work lives), and a wide-ranging, imaginative soundtrack, collated by music supervisor Solange Knowles, that somehow manages to feel like a Greek chorus to the action without seeming too on-the-nose.
Few series have conveyed such a clear sense of all the different people that black professional women are required to be, and none has done such a fine job of conveying this visually as well as in performance and dialogue; notice, for instance, how the offices where Issa and Molly work are subtly "whiter" in production design than their apartments, favoring flat white, cream, pale aquamarine, and other Ikea-type hues — all of which make Molly's and Issa's dark skin pop more, driving home the notion that, as the lone African-American women in their department, they're expected to "represent" as well as do their jobs. One of the more agonizing subplots finds Molly cautioning and then reprimanding a new employee at her law office, a young African-American woman she fears is too loud and uses too many vernacular terms. Orji's performance puts across all the complications in this dilemma: She's protecting her own position while imparting life lessons to her co-worker, and underneath it all is the fear that Molly has made compromises that the new hire refuses to accept. Issa's workplace has its own drama: At one point, she masterminds a new project that she knows is kind of half-assed, but is still rightly pissed when her co-workers discuss it with her white partner via an email chain without copying her. "They're having secret white meetings and sending secret white emails," Issa tells Molly.
The pilot of Insecure is underwhelming, as pilots often are, but the second episode is more relaxed and confident. By the time it gets to the third and fourth episodes, it's on rails, conveying its more meaningful insights through lyrical bits of filmmaking, such as the Proustian mini-montage triggered by Lawrence trying to scrub a food stain out of the utterly unremarkable couch that he and Issa have been sitting on for years. In a series of brief, static flashback images, we see Issa and Lawrence accepting delivery of the couch and tearing the protective wrapping off, then making out on it, watching TV, eating, etc. Years pass within the space of a minute. Eventually, Lawrence tries to talk to Issa, but she takes a moment to register that he's said anything because she's always buried in a book. The characters gradually stop touching each other over time. The last couple of shots in the sequence find them smushed against opposite ends of the couch. It's this show's equivalent of that magnificent montage in Citizen Kane that communicates the growing alienation between Kane and his second wife by showing them moving farther apart at their dinner table, the table itself getting (preposterously) longer until the couple practically has to shout to be heard. One of Kane's most devastating scenes also occurred in a hall of mirrors, come to think of it. This show is Citizen Kane for awkward black girls.