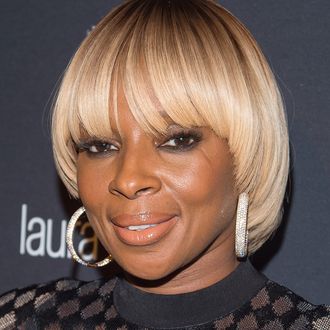 Someone give Mary a hug.
Photo: Michael Stewart/WireImage/Getty Images
Love is rough. No one knows this more than Mary J. Blige, whose entire musical catalog you could consider a master class on powering through heartache. Earlier this year, Blige filed for divorce from her husband of 12 years, which means all the rare joyous songs that marriage might've inspired are a thing of the past. Now there's plenty more drama for Mary to sing about (admit it, you wanted this) and, yikes, it isn't pretty. Her new song, "Thick of It," which was co-written with fellow breakup ballad queen Jazmine Sullivan, lays the pain on real thick. Mary ain't no quitter, babe, but fool her twice and prepare to meet the door. It's classic Mary modern soul — and quite the relief after having to endure her singing at Hillary Clinton — that'll be sung at top volume right when the liquor hits on every post-breakup night out for all eternity.