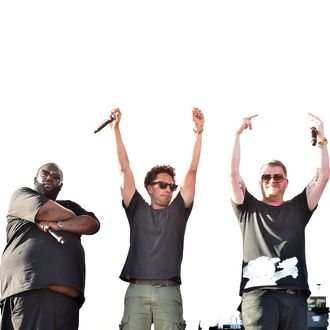 Raise your fist and gun.
Photo: Kevin Winter/Getty Images for Coachella
While we hadn't intended on pressing pause on Meow the Jewels, Run the Jewels have other plans: For the two-year anniversary of RTJ2, El-P and Killer Mike have put a bow on the first song from RTJ3. "Talk to Me" is here, and damn right it's free to download (as is the RTJ way), courtesy of this week's Adult Swim singles series. They told ya'll suckers this was gonna be good, but they never said how good. Pour your Monday morning cup of coffee down the drain, because "Talk to Me" is the only adrenaline jolt necessary. El-P's production is blistering, as always ("I'm the son of Rick Rubin," he correctly raps), while Mike has your daily serving of wokeness ("born black, that's dead on arrival") and a far more sophisticated Donald Trump joke than the one you've been telling for months ("Went to war with the devil and shaytan / He wore a bad toupee and a spray tan"). There's no word yet on when RTJ3 is coming, but never doubt that it'll be worth the wait.