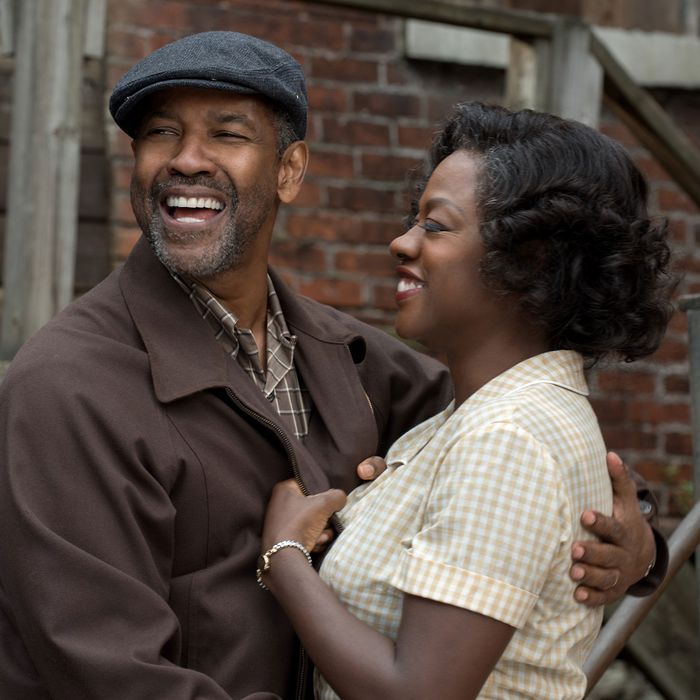 Photo: David Lee/Paramount Pictures
One of the biggest open questions of this Oscars season finally has an answer. Yesterday, the Playlist's Greg Ellwood broke the news that Paramount will position Viola Davis as a Best Supporting Actress contender for Fences, the highly anticipated August Wilson adaptation she stars in alongside Denzel Washington. Davis won a Tony in the same role during Fences' 2010 Broadway revival and, based on the film's artful trailer, looks to be giving the sort of powerhouse performance that could leave other Oscar-contending actresses quaking in their heels. Still, there were all sorts of mixed signals about where Davis would be slotted this awards season, and I'd been hearing rumors since August that she would likely forsake the Best Actress race.
When it comes to laurels, the role itself has a complicated history. When Wilson's family drama played Broadway in 1987, James Earl Jones won the Tony for best leading actor in the role of ex-ballplayer Troy, while Mary Alice, who played his wife Rose, won in the supporting category. In the 2010 Tonys, the revival's producers successfully lobbied for Davis's Rose to be treated as a lead, a move that paid off when she won the trophy. But I've heard from an early viewer of the film (which is also directed by Washington) that Davis's status as a co-lead is not so clear-cut, and that she could easily be seen as supporting Washington, the film's unequivocal center. Indeed, the long-suffering wife role is a Best Supporting Actress mainstay, and women like Jennifer Connelly (for A Beautiful Mind), Marcia Gay Harden (for Pollock), and Alicia Vikander (for The Danish Girl) have all won gold for exemplifying patience and support within a rocky marriage. 
From a strategic point of view, the positioning makes sense: This allows Davis to get out of the way of one of the most bruising Best Actress races in many years, a derby dominated by La La Land's Emma Stone and Jackie's Natalie Portman with heavy hitters like Annette Bening, Ruth Negga, Meryl Streep, Amy Adams, and Isabelle Huppert all vying for a place at the table. While it's possible that Davis still could have prevailed, in the Best Supporting Actress category, her competition is slimmer. The presumed front-runner there has been Michelle Williams, who gets a powerhouse moment near the end of Manchester by the Sea but is only in three of that film's scenes. Davis will swamp Williams when it comes to screen time, and the easier category allows her to take a more relaxed approach to campaigning: While Davis hit the trail hard for her nominated role in 2011's The Help — and got awfully close to beating Meryl Streep for the Best Actress Oscar that year — she now has a full-time commitment to ABC's How to Get Away With Murder and simply won't be as available to press the flesh with Oscar voters.

Still, the move puts Davis into pole position in her category, and it refreshes the Best Actress race, too. Stone, Portman, and Bening all feel like locks to me, but there's now far more room for other women to make a splash. Three contenders, in particular, stand to benefit from this news: Since Paramount is distributing Fences, Arrival, and Florence Foster Jenkins, there will be more attention spent on campaigning Amy Adams and Meryl Streep from the latter two films now that Davis isn't splitting the pot. I think the opening also favors Ruth Negga, who is winning raves for her quiet, wide-eyed performance in Loving, but who was up against a categorical clash of titans that conceivably could have seen five former nominees (two of whom had won before) hogging every spot. A shake-up is just what Negga needed, and for pundits and amateur awards-season watchers, it's further confirmation that this is one of the most exciting Best Actress races in years.