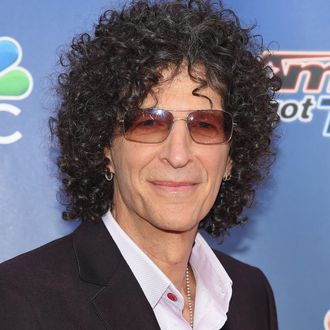 Photo: Michael Loccisano/Getty Images
Howard Stern will make a locker room blush, but he's not willing to throw Donald Trump under the Access Hollywood bus just yet. Several of Donald Trump's most recent scandals found their roots in sexually explicit interviews he gave on Howard Stern's show between 2002 and 2013. But America's most renowned shock jock says he doesn't have a personal responsibility to unearth all that audio. "These conversations that I had with Donald Trump weren't done in private like the Billy Bush tapes, this was on the radio," Stern said on his show this morning, contrasting their very public conversations with leaked audio. "Why don't I play all the tapes? I have to tell you why: I feel Donald Trump did the show in an effort to be entertaining and have fun with us, and I feel like it would be a betrayal to any of our guests if I sat there and played them now where people are attacking him." In fact, Stern notes, the idea that anyone has recently "discovered" offensive material in Trump's well-known interviews is absurd. "There's nothing to find. As the guy said, they were right there in the open," he observes.
The Sirius XM host does make the point that, while locker-room talk is literally the reason why he amassed a gigantic listening audience over several decades, some of Trump's comments still went over the line. "All the times I've been around guys — and believe me when I'm around guys 85 percent of the time you're talking about pussy but I have never been in the room when someone has said 'grab them by the pussy,'" Stern says. "No one's ever advocated going that step where you get a little bit, 'Hey, I'm going to invade someone's space.'" Man, the sheer amount of filth Robin Quivers must have heard without her hair turning white and her ears bleeding is a testament to her fortitude as a sidekick and a human being.