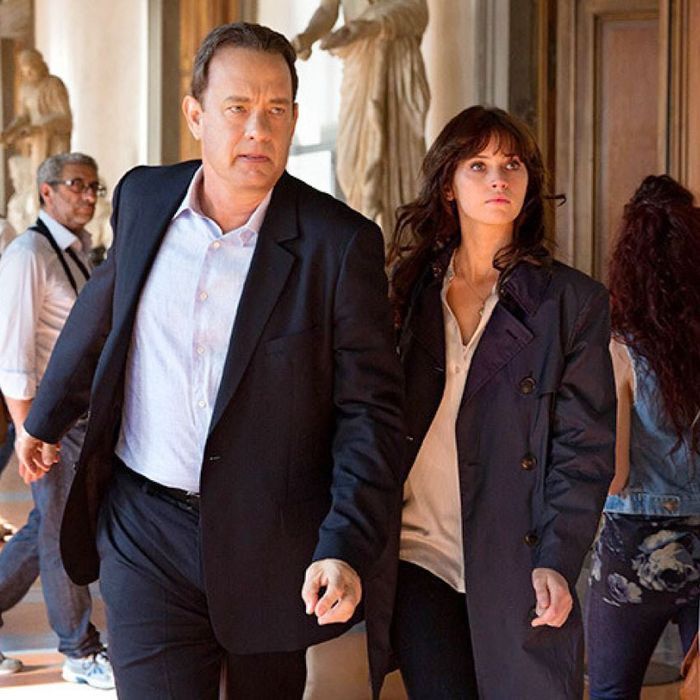 Tom Hanks and Felicity Jones in Inferno.
Photo: Imagine Entertainment
The Main Story
The diabolically boring Inferno flopped in its first weekend at the U.S. box office, pulling in a grand total of $15 million, a depth of failure deeper even lower than the film's low estimates. That was enough to land the Tom Hanks vehicle in second place behind Tyler Perry's Boo! A Madea Halloween, which held onto the top spot for a second straight week, drawing an estimated $16.7 million.
Why did Inferno perform so hellishly? As always, there are explanations and excuses. Sony's Rory Breuer told the AP, the film simply got "a few bad breaks," having to compete with a World Series match-up featuring two long-suffering fan bases as well as, presumably, a number of Halloween parties. And yet, also, in a sense, the film did not fail at all. Breuer noted that the studio "thought of the film as for the international market," which was a smart bet: In international cinemas the combination of Hanks, the Dan Brown brand, and an multinational cast has earned the film more than $150 million in three weeks. Whenever a movie makes you wonder Who asked for this? — and Inferno certainly had more than a few people in America asking that question — the answer is almost always "overseas audiences."
What Else Happened?
Some countries also got Doctor Strange before we did, and they seem to be enjoying it: The film earned $86 million overseas this weekend, the best international opening of the fall. It's safe to say that the Sorcerer Supreme is not one of the top Marvel heroes in terms of global name recognition, so this success can best be chalked up to the film's dimensions-spanning special effects, as well as the appeal of Benedict Cumberbatch's beautiful eyes. The film opens in America on November 4.
Barry Jenkins's critically acclaimed Moonlight continued its strong opening, once again pulling in the weekend's highest per-theater average: The coming-of-age tale earned $900,000 as it expanded from four screens to 36, part of a concerted effort by A24 to get the film in front of black audiences in Atlanta and South Florida. As IndieWire notes, Moonlight's per-screen average of $25,000 lands it above two of the this year's earlier indie hits, Hell or High Water and Eye in the Sky, which means that things are going about as well as could be expected for this tiny, beloved film.