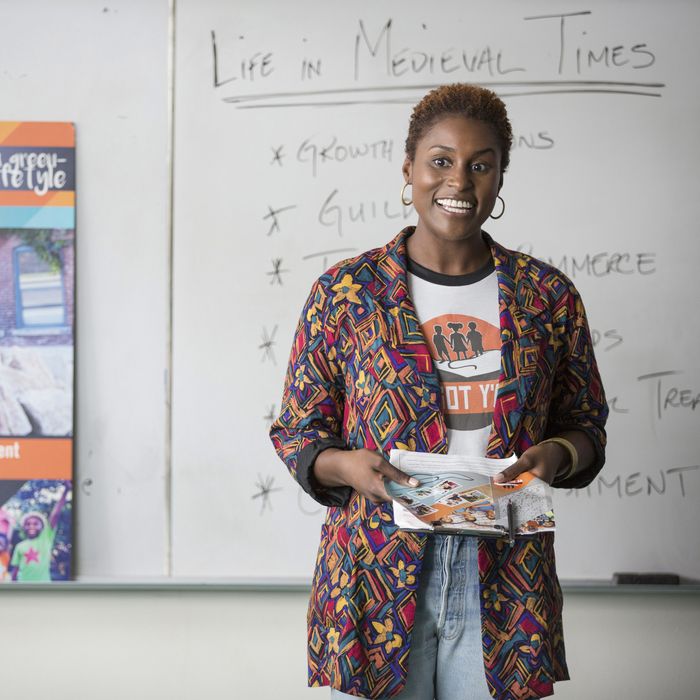 Issa Rae as Issa Dee.
Photo: HBO
One thing is immediately clear about HBO's Insecure: Although it evokes many contemporary sitcoms, it is totally singular. Series creator Issa Rae has a perspective that is, to use the preferred euphemism, underrepresented in television and film, and a vision she's been honing since she launched her hit YouTube series The Misadventures of Awkward Black Girl. That web series articulated Rae's comic voice, but it was a rough sketch of her vision, so it was hard to tell what she could do if she were granted access to the vast resources of a network like, say, HBO.
Well, now we have our answer: Insecure is the freshest, funniest, and most stylish HBO comedy in years. Not to mention the coolest — apologies to Donald Glover's Atlanta, but Insecure is a surefire contender for the title of Coolest New Show of 2016. The gorgeous pilot was shot by Melina Matsoukas, who just clinched the top directorial honor at this year's MTV Video Music Awards for her work on Beyonce's "Formation," hence the postcard-perfect establishing shots of South Los Angeles. The music consultant is Solange Knowles, hipster kid-sister of Queen Bey, who is now a star in her own right having just scored her first No. 1 album. If that's not enough, R&B legend Raphael Saadiq composed the slick score. For what initially seemed to be a rather unassuming show, Insecure has arrived with one hell of a pedigree.
That's true for the writing talent, too. Rae was wise to partner with Larry Wilmore to create the show and craft the pilot. Wilmore is a sitcom whisperer of sorts: He used his considerable talent to turn the late, great Bernie Mac's comic voice into an underrated sitcom, and he worked with Kenya Barris to establish Black-ish before his move to Comedy Central's since-canceled The Nightly Show. Now, Insecure offers Wilmore another opportunity to help a promising black writer and performer hone her unique voice. But for whatever Wilmore contributed, "Insecure As Fuck" never comes across like a joint venture. Like Atlanta and Aziz Ansari's Master of None, the episode feels like an unadulterated peek through Rae's lens. And so far, that lens is anything but rose-colored.
"Insecure" is not sad or joyless, but it is about a woman who feels like unhappiness and stagnation are never more than a couple steps away. Rae's character, who is barely renamed Issa Dee, is celebrating her 29th birthday when the series begins. Then again, it's hard to call the opening scene a celebration. Issa stands before a classroom full of ornery children, trying to gin up enthusiasm over their potential involvement in We Got Y'all, the youth program she's been working at since graduating from college. Though it's hard to say for sure, that means Issa's been working the same job for around eight years. And she's clearly not satisfied with it. As she explains the program to the kids, she manages to sound like it's her first day on the job, but also like she's been toiling away so long that she's fighting the urge to burn everything down à la Milton in Office Space.
Issa is more concerned about her love life, which is just as stagnant as her professional one. Her longtime boyfriend Lawrence (Jay Ellis) is chronically unemployed, which means he's too broke and too self-pitying to come up with ideas for her birthday. It's hard not to empathize with Lawrence — spitting and spilling coffee during an interview is a living nightmare — but he's basically a terrible boyfriend. He's the kind of boyfriend who doesn't try, or even want to try, but really wants to want to try. Instead of plastering on a smile and soldiering through a night of casual dining and cliché activities, Lawrence insists they stay home and Redbox a movie on the last birthday of Issa's 20s. He means well, and he's awfully cute, but Lawrence is about as exciting as a buckwheat pancake, and just as flat.
Little does Lawrence know he has competition in the form of Daniel (Y'lan Noel), Issa's "what if" crush from way back. In the age of social media, the One That Got Away is never more than an instant message away, so after a few Facebook exchanges, Issa decides to drop in on a spoken-word show in the hopes of "accidentally" running into Daniel. By this time, Issa's best friend Molly (Yvonne Orji) has already been introduced as a hard-working, successful lawyer whose professional success hasn't given her any more leverage in the dating world than Issa has. When Issa and Molly stop by the show, Molly's more conventional beauty quickly draws attention, leaving Issa to wander alone before she finally runs into Daniel. The sparks fly between them, but it's even better that Issa gets a chance to make herself swoon. She hops on stage to freestyle "Broken Pussy," a novelty rap about … well, the title sums it up pretty effectively.
Issa's performance would have been the perfect birthday victory if she hadn't inadvertently offended Molly by referring to the "broken pussy" joke they'd made earlier in a conversation about Molly's spinster lifestyle. The conflict is the perfect window into their relationship. Issa, being insecure and all, will never quite understand what Molly goes through in the dating world. In an early voice-over, Issa says Molly is loved by white people and black people alike, and she's clearly successful, but none of that makes the single life any easier to bear. In her pitch to the children, Issa gets asked a battery of humiliating questions about why she's single. She doesn't know that Molly gets the same questions, just with the emphasis on a different word. Instead of "Why aren't you married yet?" Molly gets "Why aren't you married yet?" It's painful when people seize onto obvious theories about your love live, but it's just as painful for people to scan you for flaws, come up empty, and wind up just as confused as you are.
If it wasn't already taken, "Your life's a joke, you're broke, your love life's D.O.A." would be a pretty good summary of Issa's life. Of course, the cultural nuances of Insecure make Issa and Molly's experience different than that of Rachel and Monica, or for that matter, Hannah Horvath and her friends on Girls. When Girls first debuted, series creator Lena Dunham made a point to include a Sex and the City poster in one of the sets, a conspicuous reference to the show that attracted girls like Hannah to New York to pursue the job, the man, and the life of her dreams. After Issa's reunion with Daniel flames out, she shows up at Molly's door with Cheetos and ranch dip, making it incredibly hard to stay mad at her. As they quickly squash their beef, Issa sings the theme song from Girlfriends, the show that was to black girls of a certain age what Sex was to white girls of a certain age. It's a small detail, but one that makes clear Insecure knows exactly what kind of show it wants to be. Awkward it ain't.