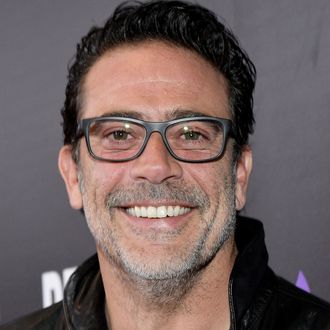 Don't let the glasses fool you.
Photo: Mike Windle/Getty Images
The following post contains spoilers from the season-seven premiere of The Walking Dead.
Look y'all, the seventh season premiere of The Walking Dead was hard for everyone. In a brutal — and brutalizing — episode of television, Negan killed two major characters from the show, including our boyfriend Glenn and our other boyfriend Abraham. It was rough. And according to Jeffrey Dean Morgan, the actor who plays Negan, it was difficult for him too — particularly the scene where Negan commands Rick to chop off Carl's arm. "Look, that whole episode was hard, and also because I did go through and smack everybody with Lucille at a certain point," Morgan told Interview. "Everybody took a hit. All of that was hard."
Morgan continued:

It got to the point where I didn't want to do it anymore … Emotionally I was completely drained — all of us were, I would imagine. Andy and I just went through the wringer. It was a hard episode, and having to get there time and time again to do these horrible things … They're all good people, and I love them — the whole cast — so to keep riding them as hard as I was riding them, in-between takes it was like, god, you've got to catch your breath a little bit. It was just so fucking heavy at all times. In the show that aired, there's no let-up, and it was like that for 10 days for us. It wasn't just 40 minutes of it; it was 10 days of that, every day, all day.
As he's said before, it was difficult for the rest of the tightly knit cast to embrace him when he first arrived on set. "So it was a hard time initially, at first especially, and this year we've had some speed bumps as far as that kind of stuff," Morgan said. "But I'll tell you, as soon as we say cut, there's lots of hugs going around for everybody and we've managed to get through it. But it was a little a weird going in initially when I didn't know anybody really. I was careful not to be a dick, I guess. Like, Don't say anything inappropriate, Jeff. Now I can be inappropriate and tell jokes and it's fine, but I was careful going in, because it was a fragile time for everybody, and I was very aware of it." Keep your Negan impulses to yourself, Jeff!