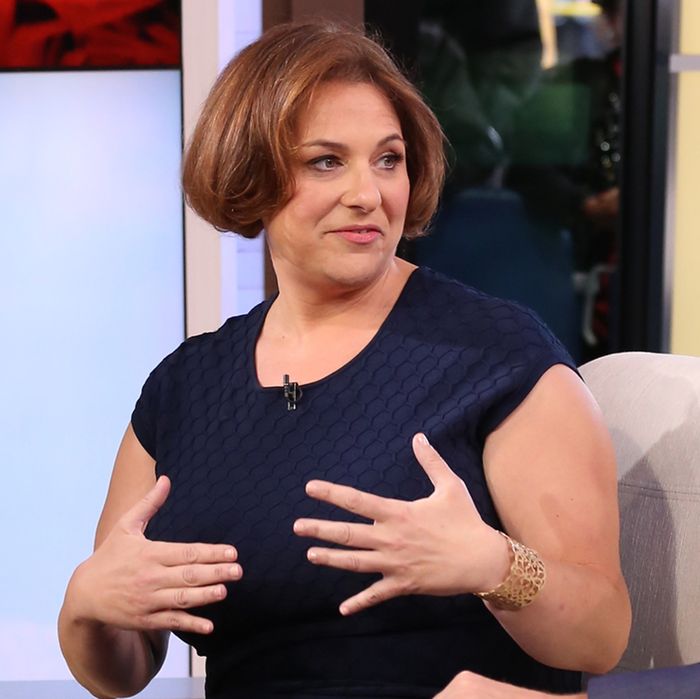 GOOD MORNING AMERICA - Chris Harrison of ABC's "The Bachelorette" and writer Jennifer Weiner is a guest on "Good Morning America," 5/19/15, airing on the ABC Television Network. (Photo by Fred Lee/ABC via Getty Images)
Photo: Fred Lee/ABC via Getty Images
In 2010, New York Times best-selling author Jennifer Weiner famously used Twitter to shed light on the sexism surrounding the rave reviews of Jonathan Franzen's Freedom. The following is an excerpt from her new memoir, Hungry Heart, where she describes using Twitter as a force for good. The book is out now.
*****
How about #Franzenfreude?
Tweeted August 2010
When my first book was published, in 2001, I had a modest set of aspirations. I wanted to go on a book tour, even if nobody showed up at my readings. I wanted to see the book for sale in stores, even if the only people who bought it were my friends. And I hoped for a review in the paper I'd read for my entire life, the New York Times.
The Times is the holy grail for most writers.* Being reviewed in the paper means you've really, truly made it—or at least, that's how it felt to me. But even before I was a writer, back when I was just a reader, I knew that a book like mine wasn't the paper's normal fare. Music critics at the paper wrote about opera and Top 40; TV critics covered sitcoms as well as PBS's twelve-part series on slavery; restaurant critics reviewed Per Se and the under-twenty-five-dollar-a-head ethnic eateries in the boroughs. Every day, in every section, the paper made an effort to be broad and inclusive, to recognize that its readers weren't all rich or male or even New Yorkers. Then I'd open up the Sunday paper and a version of the Paris Review would land in my lap. The book critics mostly ignored popular fiction and stuck to capital-L Literature … unless they were reviewing the popular fiction that men read.
Just as galling as what looked, to me, like straight-up sexism was the paper's church-and-state separation of its daily and Sunday critics. The daily people weren't allowed to talk about what they were reviewing with their Book Review counterparts, which meant that you could read a mixed-to-positive review of a literary novel on Thursday, then a mixed-to-positive review of the same book, by a different critic, in the Sunday section.
In previous decades, a writer who disapproved of the Gray Lady's policies would have had to content herself with muttering imprecations to her spouse, her mom, her friends, her dog. But in the brave new world of social media, that same writer could hit Twitter and broadcast her displeasure to the world.
I'd noticed the gender/genre divide for a while, and for years had blogged about what I'd seen in the Times—how many male writers were getting the hat trick of two reviews and a profile, how many women were seeing their books relegated to the Style section, how dismissive the paper was when it deigned to even mention chick lit, how lucky I felt when Good in Bed earned a few positive words in a Janet Maslin beach-book round-up, and that I was allowed to sneak my book into my wedding announcement. When Twitter came along, it became even easier to give assessments, almost in real time, of what the paper was doing or not doing—how there were three pieces on the new Nicholson Baker book, which would go on to sell fewer than ten thousand copies, but the only mention of the new Terry McMillan, which was in beach bags across the land, came in a snide reference in the Inside the List column, to her divorce; how the paper quoted or mentioned Gary Shteyngart more than eighty times in five years, and no female writer came close.
When the paper joined in the coronation of Jonathan Franzen in 2010, I shouldn't have been surprised.
Franzen had emerged onto the cultural landscape in 1996, when he wrote an essay in Harper's bemoaning the lowly position of the literary novelist in the world of ideas. Interspersed with his insistence that writers like him deserved to be more relevant were attacks on the long, long list of things he disliked. Franzen called bestsellers "vapid, predictable and badly written." He attacked his peers, literary writers who put their e-mail addresses on their book flaps, as embarrassments. He complained that "our presidents, if they read fiction at all, read Louis L'Amour and Walter Mosley," and even went after his own brother for failing to understand that Franzen's work was "simply better" than Michael Crichton's.
Then came Oprah. In 2001, she made Franzen's dreams of relevance come true by choosing his third novel, The Corrections, for her popular TV book club. Franzen accepted her invitation, then spent the next two weeks trashing Oprah's taste, denigrating her viewers, fretting that her sticker on his masterpiece would keep serious, male readers away, and generally acting like such a pretentious, elitist ingrate that even Harold Bloom came forward to condemn him. Oprah rescinded her invitation, with the frosty declaration that "it was never [her] intention to make anyone uncomfortable." Franzen issued a few limp sorry-not-sorries, and the world moved on.
In 2010, Franzen was back with a new novel. Time magazine put him on its cover beneath the headline "Great American Novelist" (never mind that Time was among the long list of institutions Franzen had sneered at in his Harper's essay). The New York Times wrote half a dozen stories in the run-up to Freedom's publication, posting the first of two glowing reviews online days before the book's release, profiling the author, then writing about the public's feelings about Franzen, behaving as if its job was to sell the book, not cover it. Some female writers were less than amused. Jodi Picoult tweeted that she wasn't surprised to see the Times lavish ink on "another white male literary darling," and I wrote about how, even in a world where the Times typically gave the lion's share of its attention to men, this seemed excessive. When Lizzie Skurnick, who wrote the Sunday Magazine's "That Should Be a Word" column, tweeted to ask what to call the Franzenfrenzy, I was working on my own book at the Truro Public Library. I dashed off, "#Franzenfreude," without first consulting the German-to-English dictionary that I don't have, because I never studied German (it isn't a language that Jewish families tend to urge their children to acquire).
It turned out, of course, that the "freude" part of "schadenfreude" means "joy." It also turned out that, in spite of my very compelling hashtag, the Times was in no hurry to relinquish its unofficial duties as Franzen's personal publicist. Instead of pulling back, the paper doubled down, running more stories about Freedom and Franzen, even dispatching a reporter to cover Franzen's book-release party. Her breathless account of the evening—a list of the members of "literary Elysium" who attended, descriptions of the cut of the New Yorker book editor's dress and the "high-ceilinged rooms awash in the romantic luster of the Colonial era"—concluded with the citizens of Elysium, including Franzen's editor, Jonathan Galassi, and Salon book critic Laura Miller, lining up to take shots at the "detractors who've groused at his good fortune." The whole thing ran beneath the completely objective, not at all biased headline "In This Galaxy, One Star Shines Brightest."
It was gross. It was bad journalism. It was completely disingenuous of the Times to report on the "good fortune" of the bright star that it had been instrumental in creating. It was also not Franzen's fault. He'd been a jerk about popular fiction, he'd been a dick to Oprah and her readers, he'd turned up his nose at the kind of attention and praise that most writers would have killed their own mothers, or at least hobbled their pets, for. But he was just the right kind of writer (white, male) in the right place (New York City) at the right time, with the right publisher (Farrar, Straus and Giroux) to enjoy the Times' largesse. And the great good fortune didn't end with the newspaper. Oprah, after years of preaching that women shouldn't go back to men who'd hurt them, made Freedom a book-club pick and invited Franzen back to her show. Franzen managed to stop insulting her long enough to collect her endorsement, and the attendant hundreds of thousands of sales that her imprimatur guaranteed, before going back to his regularly scheduled Oprah-bashing. It looked like Status Quo 1, Jealous Grousing Detractors 0.
But, in the days and weeks after the Franzenfrenzy subsided, the social-media conversation continued to simmer—about whose books were getting reviewed, and where, and by whom, and with what language; about who were the "right" writers to drive the conversation, about whether change was necessary, about whether change was possible. People kept talking. Back then, their number included Franzen himself, who acknowledged that, yes indeed, women's books were packaged differently, and treated differently, than books by men … and then people started counting.
At the very end of what felt like a very, very long summer, I was having dinner at the Wicked Oyster in Wellfleet when my phone pinged. About ten people, from my agent to my editor to my sister to my mom, were e-mailing the same link, asking "Did you see this?"
"This" turned out to be a story in Slate, where a reporter had actually gone through and counted up how many men and how many women the Times had reviewed in a just-shy-of-two-years period. The news for Times defenders was not good.
Of the 545 fiction books reviewed in the Times between June 29, 2008, and August 27, 2010, 338 were written by men (or  62 percent of the total) and 207 were written by women (or 38 percent of the total). Of the 101 fiction books that received two reviews in that period (one in the newspaper during the week and one in the weekend's Book Review), 72 were written by men and 29 were written by women.
I remember sitting in the dining room and saying, loudly enough for the sunburned, red-pants-wearing diners at neighboring tables to turn and stare, "I told you so!"
The Slate count was only the first of the damning tallies. That year, an organization of women in the arts called VIDA started counting, not just at the Times, but at a range of high-end newspapers and magazines. Its first Count, which would become an annual event, appeared in 2011. The organization used pie charts to illustrate the problem. What they found was shocking, even to me. In 2010, the Atlantic reviewed books by 10 women and 33 men. Harper's reviewed 21 women and 46 men. The New Yorker published articles and short stories by 163 women, 449 men. At the New York Review of Books, a whopping 88 percent—or 133 of 152 articles—were written by men. And in 2010 the New York Times Book Review reviewed 283 books by women, 584 books by men.
The numbers prompted stories and pointed headlines. "Few Female Bylines in Major Magazines," from the Columbia Journalism Review. "Where Are the Women Writers?" in Mother Jones. "Voices Unheard: Female Bylines Still Lacking in Male-Dominated Literary Magazines" on Yahoo.com. Editors were called on to justify their pies. Some were defensive. Others were contrite. "It's certainly been a concern for a long time among the editors here, but we've got to do better—it's as simple and as stark as that," said David Remnick of the New Yorker.
In the five years since Freedom was published, there's been some improvement. In 2011, the Atlantic's bylines were 28 percent female. In 2014, they were 40. The New Republic inched up from 23 to 27 percent. The New Yorker's percentage rose from 30 to 33 percent, while Harper's went from a dismal 23 percent to 32 percent. Best of all, from my perspective, the Times hired a (female) editor of the Book Review who seems to have effortlessly corrected its gender imbalance, and who launched a column called "The Shortlist," which makes room, sometimes, for romance and popular fiction. Which would be great … if you didn't know that the paper devotes regular columns to crime fiction and science fiction and horror, to YA and children's books and even self-help, but still has no regular, dedicated space for romance or commercial women's fiction.
So—baby steps. But also an example of how Twitter can at times be a force for good, a way to raise awareness, to point out a problem, to chart progress, and to cheer when things get better.
*And by "most writers," I mean "in my head."
From HUNGRY HEART: ADVENTURES IN LIFE, LOVE, AND WRITING by Jennifer Weiner. Copyright © 2016 by Jennifer Weiner, Inc. Reprinted by permission of Atria Books, a Division of Simon & Schuster, Inc.