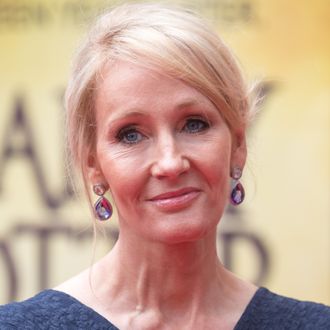 Photo: Luca Teuchmann/Luca Teuchmann / WireImage
Robert Galbraith may be no J.K. Rowling proper, what with Fantastic Beasts being split into five movies and all, but Rowling's pseudonym isn't doing too bad for himself. Deadline reports that the latest of the crime novels published by Rowling under the Galbraith name are set to be adapted as a BBC One limited series, which will air on HBO in the U.S.* The project, Cormoran Strike, will air as three separate event series, each based on a Galbraith book: The Cuckoo's Calling, The Silkworm, and Career Of Evil. Cormoran Strike will star Tom Burke as a war veteran turned P.I. who can crack cases that have eluded the police proper. Rowling is set to executive-produce the project, which is just the latest of her crime novels to be adapted by BBC One and air on HBO in the U.S., following last year's The Casual Vacancy miniseries. Meanwhile, a new Galbraith book is coming in 2017, so if you are waiting for a reality wherein Rowling isn't forever pushing new content, the time to give up and ascend to a higher plane of consciousness is nigh.
* This post has been updated to reflect that HBO will air the series in the U.S., and will not be producing the adaptation itself.