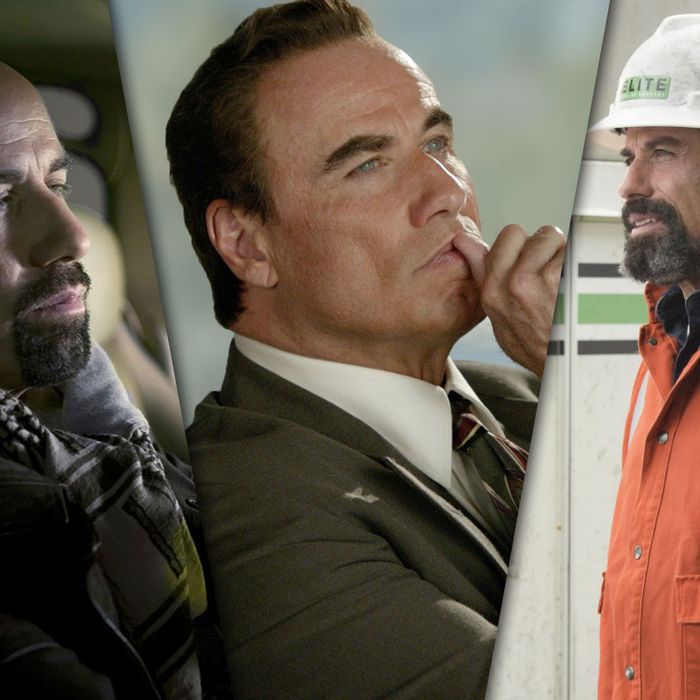 Bearded in From Paris with Love; not bearded in The People v. O.J.; bearded in Life on the Line.
In 1977, Saturday Night Fever ushered in three cherished pieces of American culture: disco, John Travolta, and John Travolta's hair. In the film's opening sequence, Travolta's perfectly coiffed Tony Manero walks down the street, heading home to execute an iconic grooming sequence that instantly thrust the actor and his follicles into superstardom. For a time, it was good: Throughout the first two acts of Travolta's career, the man and his hair evolved with the times, but each were able to work together in a mutually supportive partnership.
But at the turn of the millennium, something terrible happened. As in many long partnerships, the relationship was strained by the addition of a third element — in this case, John Travolta's facial hair. As proof, look no further than this week's trailer for Travolta's latest movie, Life on the Line, in which the actor's face has been overtaken by a beard that makes him look suspiciously similar to the late Billy Mays. It's the culmination of years of dubious facial hair choices; since Battlefield Earth, Travolta has been wandering through a thicket of bad films, sporting a different, utterly confusing hair style in each. To commemorate the upcoming release of Life on the Line, we present you now with a progression of the regression of John Travolta's once enviable hairstyles, as those styles have migrated from the crown of his head to all over his face.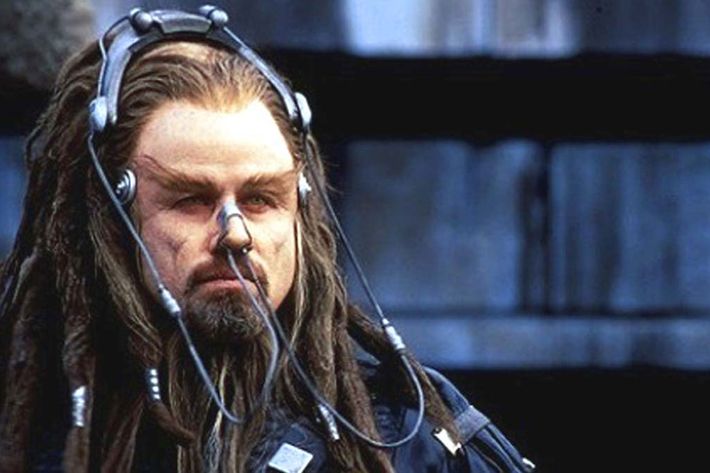 Battlefield Earth (2000)
The winged eyebrows of Battlefield Earth would prove a premonition of Travolta's new style choices. Seemingly no longer able in his advancing years to produce the thick, desirable hair of roles past, Travolta opted instead to start defining his screen presence with facial hair styles that could not even be labeled by human barbers. Here, he accompanies his Scientology-sanctioned wizard brows with a full Van Dyke, and things would only get worse from there.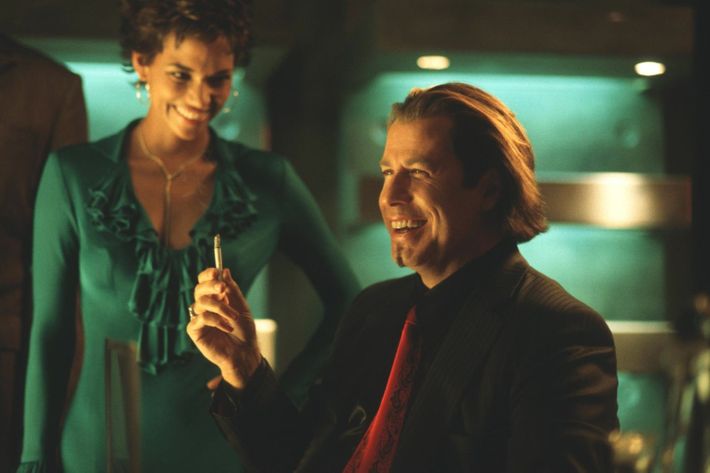 Swordfish (2001)
John Travolta with a head of mid-length straight hair is not an inherently bad idea. After seeing his career founder in the late '80s, Travolta grew out his hair again for Pulp Fiction, and his greasy man-pony in that film proved the shot in arm he needed. But Swordfish, a film about a hacker recruited by a secret intelligence agency to thwart terrorists, was no Pulp Fiction, and the creepy landing strip that sprouted from Travolta's cleft chin brought to mind uncomfortable memories of 1990s porn.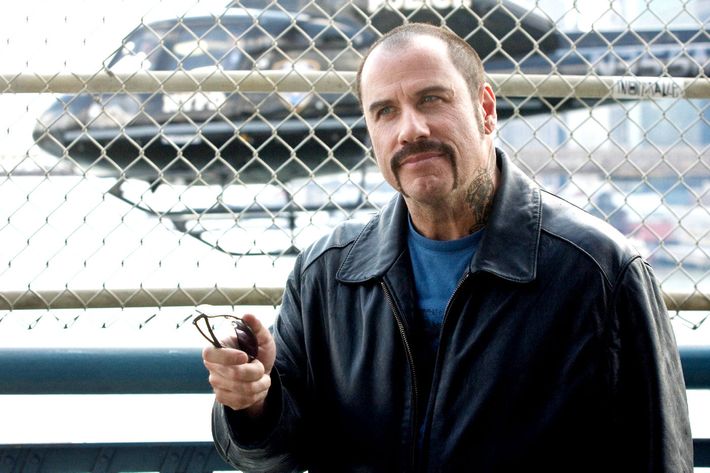 The Taking of Pelham 1 2 3 (2009)
At times in Travolta's career, even the definition of the word "hair" has come into question. The actor isn't growing beards or goatees or mustaches so much as he is just sticking patches onto the lower half of his face. As in the strange handlebar mustache Travolta sported in Pelham, the hair of this period isn't grown, it is worn.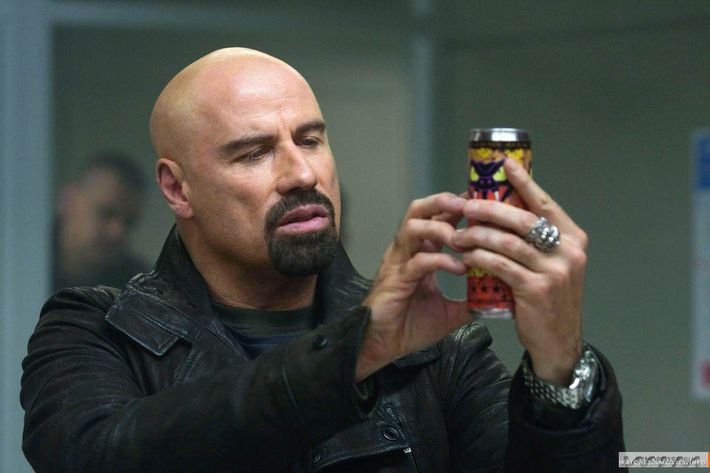 From Paris With Love (2010)
As the hair on top of Travolta's head thinned, the stuff on his face just kept getting darker and more imposing. In From Paris With Love we see a full inversion: clean on top with a tightly trimmed Van Dyke on the bottom. A bold experiment, to be sure, but like most experiments it was also a box-office failure.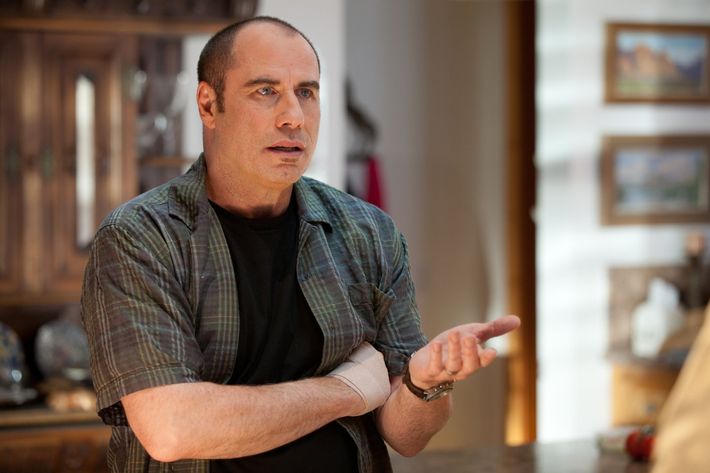 Savages (2012)
In Oliver Stone's Savages, Travolta left behind the spray-painted aesthetic for a stripped-down look as a crooked DEA agent, though he couldn't resist adding a barely there soul patch. For appearing onscreen with his natural hairline, Travolta was rewarded with a medium-sized box office and reviews that were only mixed, not terrible. Progress!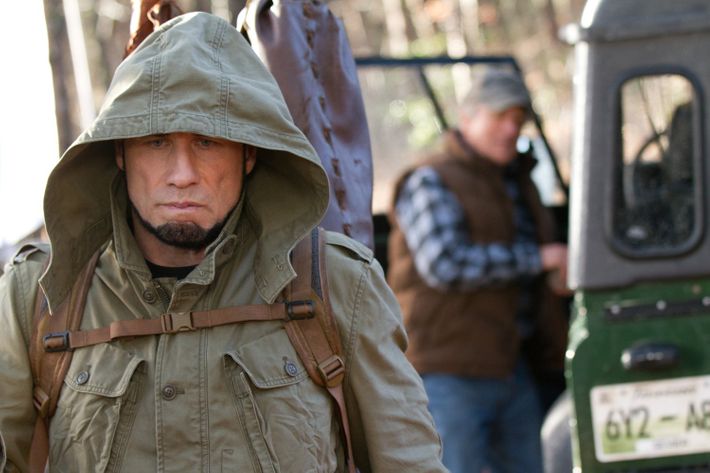 Killing Season (2013)
The only thing more surprising than the chin curtain Travolta sported in Killing Season was the presence of Robert De Niro in the same movie. (The two men played veterans of the Bosnian War; De Niro was American, Travolta Serbian.) The Velcro look pioneered in Pelham was truly taken to new depths here.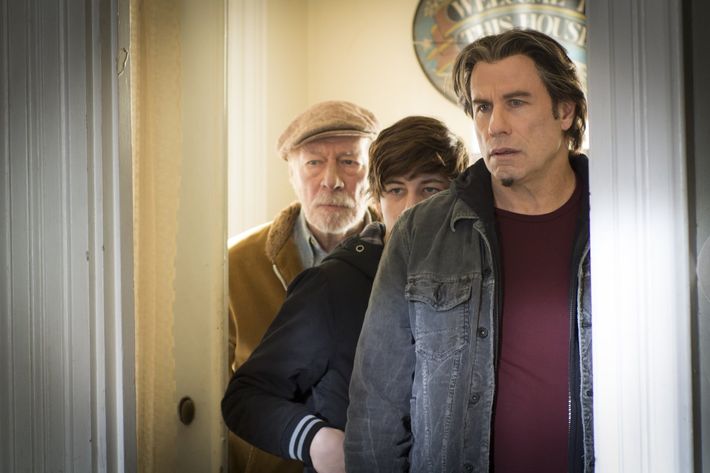 The Forger (2014)
The Forger is a story about an art forger (Travolta) sprung from prison and forced to take on one last job. Looking at the artificial widow's peak and the billy-goat goatee, and it's clear the film's hair and makeup department were given the same deal.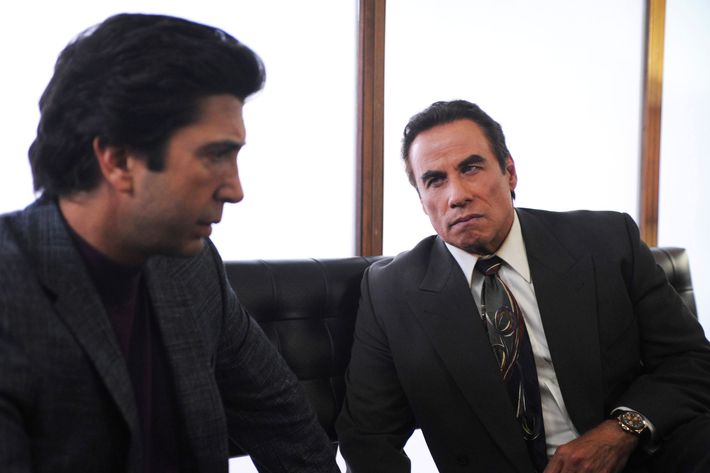 American Crime Story: The People v. O.J. Simpson (2016)
Travolta rode his impressive eyebrows in the true-crime mini-series all the way to an Emmy nomination. Could yet another comeback be at hand?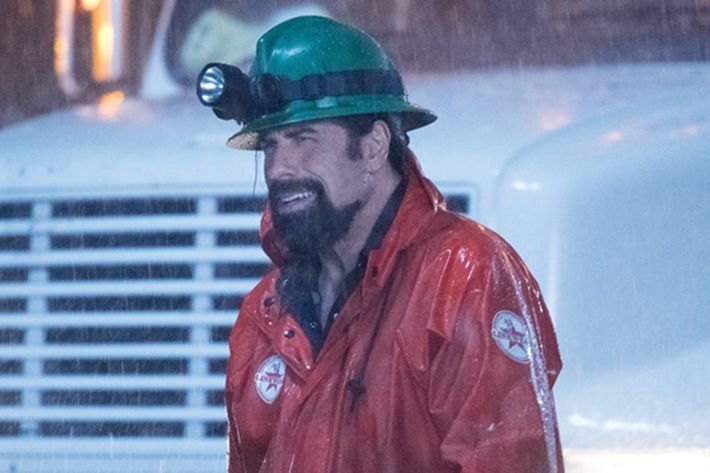 Life on the Line (2016)
Don't speak to soon — the trailer for Life on the Line proves that Travolta has not yet kicked addiction to idiosyncratic facial hair. We hoped the jet-black Brillo-pad look got left behind with Killing Season, but it's resurfaced with this woolly number. To steal a line from Scrubs, his face is five-sixths beard!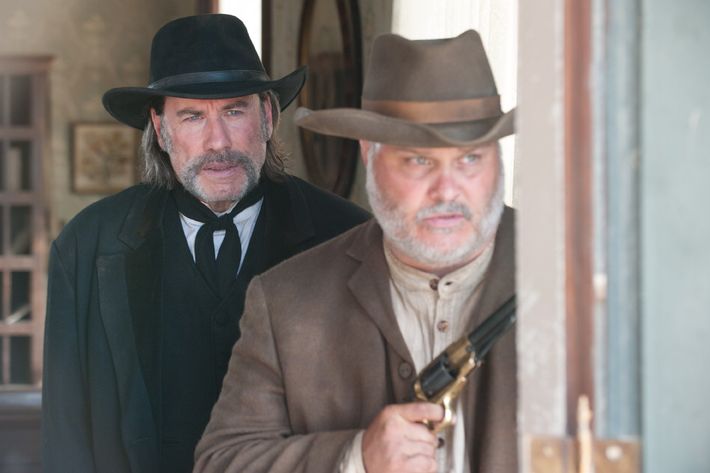 In a Valley of Violence (2016)
However, all hope is not lost. If there's one movie that could turn things around, it's In a Valley of Violence, a Western that's been blowing up the festival circuit this year. As the patriarch of a desolate mining town, Travolta's once again sporting a veritable jaw-full of hair, but this time, it's hair that looks like he could have grown it himself. And, as bonus, it's hair that's period- and setting-appropriate, which almost never happens with Travolta's onscreen looks. We've been fooled before, but if Travolta can embrace the organic look from here on out, he may indeed have a second comeback on his hands — and, more importantly, on his face.