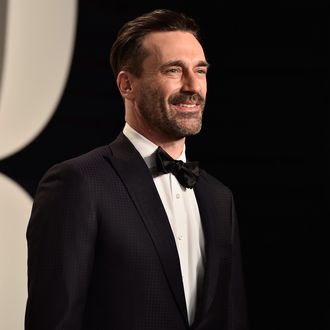 Jon Hamm.
Photo: Pascal Le Segretain/Getty Images
If nothing else, Jon Hamm is extremely good at making you want to try things. In an interview with Mr. Porter's The Journal, Hamm opened up about his recent stint in rehab for alcohol addiction, giving a perfectly phrased pitch for the experience. "It has all these connotations," he said. "But it's just an extended period of talking about yourself. People go for all sorts of reasons, not all of which are chemically related. But there's something to be said for pulling yourself out of the grind for a period of time and concentrating on recalibrating the system. And it works. It's great." Trust Don Draper to know the secrets of enlightenment.
Elsewhere in the profile, Hamm, who will next star in Keeping Up With the Joneses, reveals that he has turned down superhero movies — "It takes so long as they don't want one movie, they want three movies with two crossovers" — and muses on the relative paucity of great drama roles. "From a features standpoint, it's really difficult to get hard dramas made if you're not Matt Damon, Christian Bale, Denzel Washington or Ben Affleck," Hamm said. "That's what those boys do and there are only so many slots. There are five or six leads who get the first look and if you're lucky you might get a second. But hope springs eternal around this time of year. We're done with the capes and tights and laser beams and we're starting to see the serious movies that are up for awards." Until that great drama script comes along, Jon Hamm will just have to rely on roles that show off his stellar comic timing, what a shame.