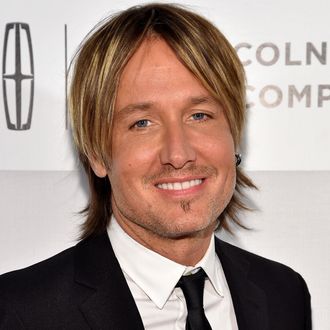 Photo: Mike Coppola/Getty Images for Tribeca Film Festival
All week on Vulture, we're examining '80s pop culture and how it lives on today.
With Vulture celebrating 1980s entertainment this week, we caught up with country music star Keith Urban (while his wife, Nicole Kidman, scooped up a prize at the InStyle Awards in Los Angeles) to find out which part of that decade's pop culture continues to resonate with him the most. His answer came as something of a surprise, as the singer-songwriter revealed a secret passion for electronic music.

"The music is the first thing I think of when I think of the '80s — the early integration of machinery, in the form of drum machines and sort of roboticism into music and the fusing of all that," he explained. "It was happening before that, but the '80s was really an interesting time for it. Depeche Mode, bands like that – even I was playing in little clubs and stuff, and using a drum machine to play solo gigs."
"There should be an art in the buttons that you're pressing to make music," Urban continued. "You know, Kraftwerk was so ahead of their time in that regard. There's a way to make that musical, the pressing of buttons — the work that Atticus Ross and Trent Reznor did on the soundtrack to The Social Network, that's an art form when it is done right."
Urban ended on a note that could either be interepreted as perspective on future co-existence of analog and digital music, or as concern about the rise of sentient robots.
"I'm drawn to all of it, to the idea of how us and the machines can operate together," he said. "We have to get along. It's imperative."