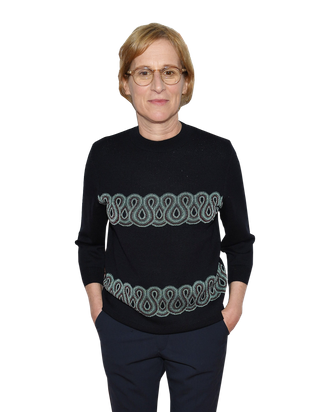 Kelly Reichardt's latest film Certain Women, a triptych of short narratives centered on three Montana women, is the latest installment in a movie career that the writer-director herself admits can be hard to pin down. The film is based on short stories by the award-winning author Maile Meloy, and despite featuring Reichardt's highest-profile cast to date — Kristen Stewart, Laura Dern, and frequent collaborator Michelle Williams — it maintains the essence of what has become her signature style: quiet, slow, and nature-heavy storytelling that humanizes the seemingly most insignificant connections we make with each other, and ourselves. Vulture spoke to Reichardt about her breakout Sundance hit, which opened October 14, about why she's drawn to intimate storytelling, how Oregon became her accidental filmmaking base camp, why she can't write in New York, and why she found a kindred artistic spirit in Williams.
I recently read what I think is spot-on assessment of your work, on Rotten Tomatoes, which said Certain Women demonstrates your "gift for telling stories of ordinary people with uncommon empathy and skill." What do you think when you hear this?
I think that's very nice, but also 100 percent sounds like pandering. [Laughs.]
Like all your work, Certain Woman has a quiet, meditative tone with subtle plot points and no clear resolution. Are you able to stand back and assess your own work in terms of why you're drawn to telling these particular stories?
Oh, I'm so bad at articulating their meaning! I hear [director] Todd Haynes talk about his films sometimes and I think, Wow, he's so good. I don't really have that skill yet. But I think what my films all have in common is that they are stories I can really get my arms around. I can really dig into them. I enjoy filming the process of things, like daily chores, or in the case of Night Moves, trying to figure out how to get ammonium nitrate, or in Meek's Cutoff, figuring out how to cook a loaf of bread in the ground. It's funny, every time I start work on a new script, it feels like I'm going outside my comfort zone. But by the time I'm done with it, it's like, Oh, I'm back at the same place again. It's always about getting people from point A to point B. 
Now that you say this, the stories you tell are almost always about the precise moments in characters' worlds when the perceived banality of their daily lives is disrupted by an outside force.
This is all in [author and screenwriter] Jon Raymond's writing and in the stories by Maile Meloy that I adapted for Certain Women. They're all about the people we encounter in everyday life; the relationships we have with strangers and the community that comes out of these interactions.
You're a Florida native, but most of your work is set in the Pacific Northwest. What drew you to that region?
Well, nothing really films in Florida. [Laughs] I've lived in New York for a couple of decades and I first started coming out to Oregon because Todd [Haynes] moved to Portland and through him I met Jon Raymond. I read Jon's novel The Half-Life and I wrote him and asked if he had any short stories. At that time I was looking for things that could be filmed outside because I couldn't afford lighting or a larger crew. He sent me Old Joy, which had been published in a novella. I spent the next six months driving around the country looking at hot tubs thinking of where I might film the story. The first time I went to [Oregon's] Bagby Hot Springs it was covered in snow and I couldn't get up the path, so I had to look at other places. But I wound up back up at Bagby [where Old Joy was set]. So it all started with this little kinship with Jon, producer Neil Kopp, and Oregon — and suddenly it became a decade's worth of filmmaking.
As an Oregon native, I can tell you your movies absolutely look the way it feels to live there.
Oh, that's cool!
Where do you do your best writing? Where can you really focus?
For Certain Women, the characters were so well-formed that what I had to do was far less arduous than normal. But there's a little cottage that I rent in Portland behind my friend's place. It has a feeling of being in the country, but it's actually on the other side of the fence from a Subway sandwich shop. There's a little garden and it's just close enough to be able to, when I'm stuck on something in a script, take a walk up to Mount Tabor or get some dinner with friends. But it's also secluded enough that there are no interruptions. I find it's really hard to write in New York. There are too many distractions. Also, I can't be in a coffeehouse — I really need to spread out and be in my own space.
You've now worked with Michelle Williams on three films — Wendy and Lucy, Meek's Cutoff, and Certain Women. What have you found in each other as collaborators that is distinct?
I think we're both people who like to do our homework, but she also always arrives really open to anything, to discovering a character while she's playing it. She never comes in locked into just one idea. Wendy and Lucy was such a search for both of us: Who is this person? Meek's Cutoff was such a challenging movie that it gave us this great shortcut language, which is really nice. She's also so game to play a character that's not necessarily endearing. She enjoys it. She's also easy to talk into going a long time without taking a shower [Laughs]. She loves to do physical work. On Wendy and Lucy, she was like, "I'll do whatever you want, but only if I can jump a train!"