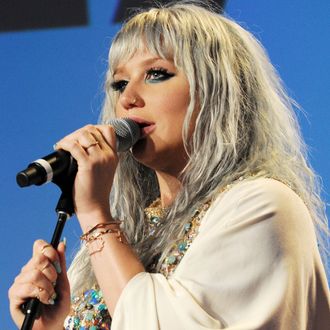 Kesha.
Photo: Jennifer Graylock/Getty Images
The legal case between Kesha and Dr. Luke has remained at a standstill since this August, when the singer dropped her California lawsuit against the producer, even as she continued to pursue other legal claims against him in New York. The stated goal was for Kesha "to get back to work" on new music, and her lawyer claimed that the musician had delivered 28 new songs to her record label. Now, in a new New York Times Magazine profile, Kesha discusses the contents of that new music, specifically 22 songs that the singer wrote and recorded at her own expense, which are "sitting somewhere waiting to be completed and polished and released."
The profile describes four of those songs in detail: "Hunt You Down," which is "a real country song with banjo and some real country sentiments"; "Learn to Let It Go," which "sounded like something you'd hear in heavy rotation on radio"; "Rosé," a "toast to an old boyfriend who has married"; and "Rainbow," which Kesha wrote while she was in rehab and produced with the help of Ben Folds. According to the Times, Kesha wanted that song to be "a great orchestral production," like something reminiscent of the Beach Boys' Pet Sounds. (Folds also helped Kesha put together the Bob Dylan cover she performed at the BBMAs this year.)
While this music was all produced outside of Kesha's formal relationship with Sony and Dr. Luke's Kemosabe records, the label continues to claim that it has made it possible for Kesha to work with outside producers, while her team insists that those moves are simply an "accommodation." Dr. Luke, whom Kesha has accused of sexual assault, is still making all decisions about her music, her lawyers claim. To those assault claims, Luke has counter-sued Kesha and her mother, claiming defamation. Earlier this summer, Kesha announced plans to tour and to perform new music. It's now up to Sony to decide when, and if, it will ever release it.
Update: Lawyers for Dr. Luke have responded to Kesha's interview, claiming that "she exiled herself" and maintain their stance that Kesha was "always free to move forward with her music." They allege that Kesha chose not to provide the label with new songs until June and July of this year, after her injunction to be released from her contract with Luke was denied, and that both sides are currently in the process of finalizing Kesha's next album. Read part of Dr. Luke's statement below:
The reality is that for well over two years, Kesha chose — and it was entirely her choice — not to provide her label with any music.

Kesha was always free to move forward with her music, and an album could have been released long ago had she done so.

She exiled herself.

It was not until months after the denial of her injunction motion — for the first time in June and July 2016 — that Kesha started to provide the label with music.

She provided 22 recordings created without any label consultation which were not in compliance with her contract, were in various stages of development, and which Kesha's own team acknowledged needed work. Then, and for the last several months, the label has been in discussions with Kesha and her team to choose the best music, create additional music, and work on the tracks created.