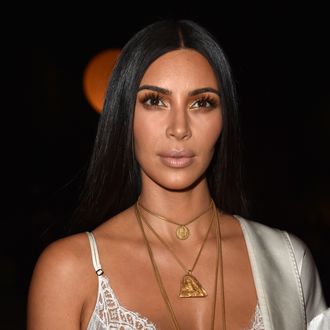 Photo: Pascal Le Segretain/Getty Images
Kim Kardashian West was held up at gunpoint in her Paris hotel room on Sunday night. A spokesperson said she is "badly shaken but physically unharmed."
The French Interior Ministry said that Kardashian West was held up by two armed masked men posing as police officers at a residence near Paris's Madeleine Church. Police said the men tied her up and locked her in a bathroom, then made off with a ring worth an estimated $4.5 million, a jewelry box containing $6.7 million in valuables, and two cell phones, according to CNN. They escaped on bikes and are still at large.
The incident began when five men threatened the hotel's concierge with a weapon, handcuffed him, and forced him to open Kardashian West's flat. Only two of the men entered her room. No weapons were fired and no one was injured during the robbery.
The reality-TV star's husband, Kanye West, cancelled his performance abruptly at Sunday night's Meadows Festival saying, "I'm sorry, family emergency I have to stop the show."
Kim was attending Paris Fashion Week with her mom, Kris Jenner, and sister, Kendall Jenner. It's unclear if any other members of the Kardashian West family were present during the robbery, but they are now under police protection at the Hotel George V.
This post has been updated throughout.