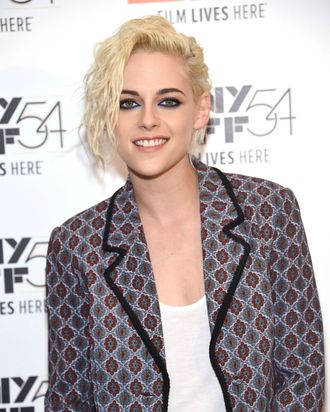 Photo: Jamie McCarthy/Getty Images
French director Olivier Assayas wasn't exactly going out on a limb when he called Kristen Stewart the greatest actress of her generation — she's the first American actress to ever win a César award, and she's in three distinctly different movies at this year's New York Film Festival, Personal Shopper, Certain Women, and Billy Lynn's Long Halftime Walk, all of which have earned her high praise. But Stewart isn't above geeking out over his comments. "He has good taste," she joked to Vulture at An Evening With Kristen Stewart at NYFF Wednesday night before adding:
No [seriously], he does have good taste. I also know how close he is to his work; I know how personal it is for him. So I know he would only say that because I was able to get about as close to his thing as he is. And honestly, it makes me feel great. I would go to really stupid lengths to satisfy that vision, so him saying that means I did it.
Stewart has said that she's naturally attracted to "isolating and terrible" roles like the one she undertakes in Assayas's Personal Shopper, where she plays Maureen, a woman mourning the loss of her twin brother. "It's just an absurd default setting that I have," she explained. "It's like a survival instinct: to push [myself] to where I feel closest to … I don't want to be dramatic and say 'death,' but to where you feel closest to losing control. You feel so alive when you've lost everything. I feel like, with anything worth doing, I usually have that feeling."