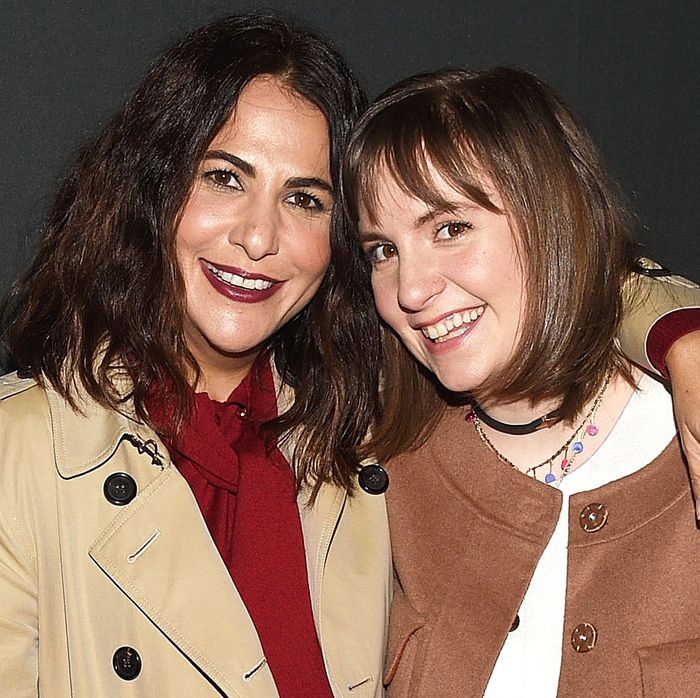 Girls executive producer Jenni Konner and actress Lena Dunham.
Photo: J. Kempin/Getty Images
As they prepare to release the sixth and final season of Girls, show creator Lena Dunham, showrunner Jenni Konner, and HBO vice president of programming Kathleen McCaffrey sat down for a conversation with Slate's Willa Paskin at the New York Television Festival Thursday evening. The team spoke candidly as they joked about the show's low ratings, story lines they regret, and possible spinoffs. Below, six fun facts we learned about the show, which will return for its last season this winter.
Lena Dunham snuck the fact all the girls all have alliterative names past Jenni Konner.
"The girls all have alliterative middle names. I slipped it by Jenni. She literally hates it … There is Marnie Marie Michaels, there's Hannah Helene Horvath. There's Jessa Joan Johansson, and there is Shoshanna Sharon Shapiro. But the boys don't have alliterative names, just the girls. I'm embarrassed about it now, at the time I was like, This is the coolest. I thought someone would notice in season six and be like, Wow, she is really using her noggin."
It doesn't matter to HBO that the show's ratings are low.
"No it doesn't matter," says McCaffrey. "The amazing thing about Lena is that she says one thing, and everyone is talking about it … So the marketing department says, 'Oh, it's pretty easy, because people are talking about it, and someone is pissed off somewhere and that is great for us.'" Dunham adds, "Every year some Republican website is like, 'Girls drops in ratings,' and we are like, No, we never had any ratings." 
Dunham will sometimes direct semi-naked.
"I have directed in a weird nude thong and a T-shirt," Dunham says, "and Jenni will finally be like, just put on a robe, even if people if people are used to it, it's just better for professional vibes to be dressed."

They would like to write a show entirely for Laird called Laird Downstairs.
"One of our writers has this idea to do a video side show, called Laird Downstairs," Konner says. "And it is just what is Laird doing downstairs," Lena adds. "He's just feeding his turtle," Konner explains. "Jon Glaser is such a brilliant genius, and I just want to see him in that hat."
They think the GQ scenes in season three were a little boring.
"I wouldn't do anything differently because I'm too lazy, but my least favorite thing was the GQ stories," Konner recalls. "For whatever reason, I thought we had the most incredible actors, but I was slightly bored with an office scene. It felt the most away from Girls."
Lena has some regrets about Jessa's character in season one.
"There is some stuff we did with Jessa in the first season where we were still finding her … [and] she was a little too soulless," Dunham says. "I love the actor who played her ex-boyfriend, who she had revenge sex with in season one, but there was something about that that doesn't really speak to who I think that character ultimately was. We were figuring out how to write for someone who was confident, but had this dark side. That is not something I watch with joy."