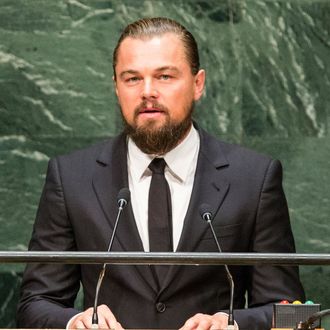 Leonardo DiCaprio at the UN Climate Summit
Photo: Andrew Burton/Getty Images
If Leonardo DiCaprio is criticized for his behavior, it's generally something to do with his love life or his membership in a certain group of fellow Hollywood actors. Where the A-lister is considered generally unassailable is in the realm of climate change, a concern DiCaprio has championed for years both creatively (with the documentaries Before the Flood and 2007's The Eleventh Hour) and personally, with his Leonardo DiCaprio Foundation. He even said that politicians who do not believe in climate change should not hold public office at the White House's recent South by South Lawn event.
But that pristine environmental record might have taken a hit today. According to The Hollywood Reporter, a Swiss charity called Bruno Manser Fonds, which has a particular focus on the Malaysian rainforest, held a press conference alleging a connection between the actor and a massive Malaysian money-laundering scandal. The funds in question have been linked to companies and individuals involved in the deforestation of the rainforest in the region.
Bruno Manser alleges that DiCaprio received money in two capacities: through his Wolf of Wall Street paycheck (a Malaysian production company connected to the scandal was involved in the film) and via his foundation, which received money from an individual connected to the scandal. A spokesperson for Bruno Manser asked that DiCaprio either give back the allegedly tarnished money or resign his post at the UN. There is nothing from DiCaprio's camp just yet, but the heat is on — the DOJ is already investigating the scandal.