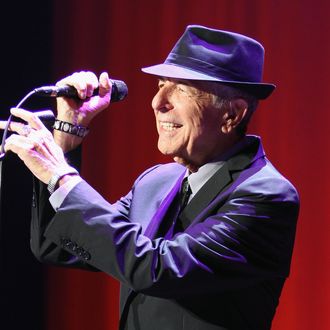 Cohen.
Photo: Phillip Massey/WireImage
It took Leonard Cohen into his 70s to fully overcome his fear of the stage; now at 82, and with a particularly grueling few years of touring already behind him, it appears Cohen's days on the road may be coming to an end. In a life-spanning, definitive profile on Cohen for the New Yorker, the magazine's editor David Remnick reports that Cohen's touring days are likely over, just as Cohen's career also enters its final act. "It is highly unlikely that his health will permit such rigors ever again," he writes, noting that Cohen refers to his current living situation as "confined to barracks." Even despite recently announcing a new album, Cohen says he's more aware than ever that he doesn't have much time left, particularly after losing his past love and storied muse, Marianne Ihlen, to cancer over the summer. "I don't think I'll be able to finish those songs. Maybe, who knows?" Cohen says of his works in progress. "And maybe I'll get a second wind, I don't know … I've got some work to do. Take care of business. I am ready to die. I hope it's not too uncomfortable. That's about it for me."
In preparation for his death, Cohen has been focused on "putting his house in order." That means waking up "well before dawn" every day to write, working on his music with his son and other collaborators over email, and possibly publishing a new book of poetry. "The big change is the proximity to death," he says. "I am a tidy kind of guy. I like to tie up the strings if I can. If I can't, also, that's O.K. But my natural thrust is to finish things that I've begun." So even if Cohen may be retiring from the road, he'll remain the consummate workhorse in private for as long as his body permits.