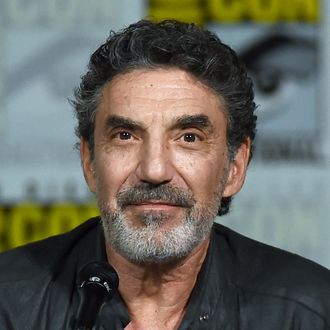 He is a fan of vanity cards.
Photo: Ethan Miller/Getty Images
Okay, so, back in 2011 when Vulture suggested that someone could make a good Bonfire of the Vanities mini-series, we didn't exactly expect the man behind The Big Bang Theory and Two and a Half Men to be involved. And yet, in 2016, here we are. Per The Hollywood Reporter, Chuck Lorre is teaming up with Amazon to develop an eight-episode adaptation of Tom Wolfe's cutting novel about New York's upper crust. Before you wonder if the show will have Masters of the Universe spouting "Bazinga!," know that decorated prestige TV scribe Margaret Nagle (Boardwalk Empire) is writing the script and executive-producing alongside Lorre. It's an odd mix of creative talent, but considering how Brian De Palma's 1990 take on the same story with Tom Hanks, Bruce Willis, and Melanie Griffith went over, there really is nowhere to go but up.