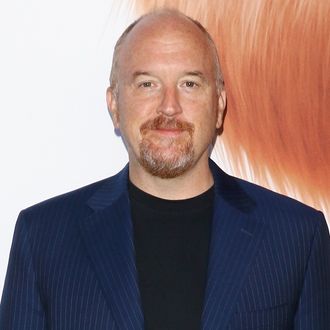 Photo: Jim Spellman/WireImage
Just a few days after stand-up comic Kevin Meaney died, his friend and fellow pioneer of Boston's comedy scene in the 1980s, Barry Crimmins, released his first-ever live stand-up special on Louis C.K.'s website. To commemorate the occasion, and pay tribute to Meaney, Louis C.K. wrote in his newsletter on Sunday about his relationship to both comedians. Before C.K. became synonymous with New York through his TV show and blockbusting tours, he was a young comic cutting his teeth in Boston with the likes of Marc Maron, David Cross, Janeane Garofalo, and John Benjamin. "It was really these two guys, Barry and Kevin, who shaped me as the comedian I am today," Louis wrote. He explained further:
Barry, for me, created the idea that comedy could be great and mean something. And Kevin used to hurt my stomach and he made me believe there was NOTHING you couldn't do on stage if you have the SKILL. He was outrageous and obnoxious stupid and childish and it all worked because he was blindingly good and musical and smooth and perfect and joyful in every show he did.
Though Louis and Crimmins had their hesitations about releasing Crimmins's album Whatever Threatens You so soon after Meaney's unexpected death, they decided to go through with the scheduled release. Louis said, "The deciding factor was that Barry told me that Kevin, who he talked to frequently, was very excited to have this come out. He was excited for Barry and for people to finally see his friend in all his glory." Whatever Threatens You was directed and produced by Louis, who reached out to Crimmins after seeing Bobcat Goldthwait's documentary about Crimmins's past as a young victim of sexual abuse and his advocacy work against child pornography, Call Me Lucky. The stand-up special is available here for $5.