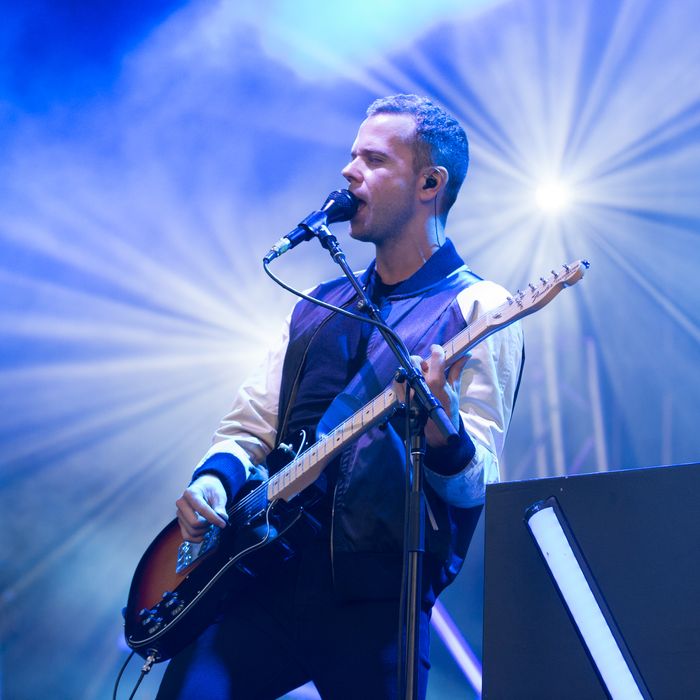 AUSTIN, TX - OCTOBER 07: Anthony Gerard Gonzalez of M83 performs live at Austin City Limits Festival at Zilker Park on October 7, 2016 in Austin, Texas. (Photo by Jim Bennett/FilmMagic)
Photo: Jim Bennett/FilmMagic
For 15 years, French singer-producer Anthony Gonzalez has explored the commonalities between shoegaze and electronic music in his flagship act M83. The band's mission and personnel grew with each project, perfecting gauzy two-man ambient sonics on 2003's Dead Cities, Red Seas, & Lost Ghosts before graduating to nervy electronic rock on 2005's pivotal Before the Dawn Heals Us and adding an '80s post-punk veneer on 2008's Saturdays = Youth. The 2011 double album Hurry Up, We're Dreaming pushed Gonzalez into further critical acclaim while yielding his first platinum single in the ubiquitous "Midnight City." Five years on, this spring's Junk baffled a quadrant of M83's base by training the band's nose for nostalgia onto ersatz department-store schmaltz and drippy balladry replete with sax solos. Suddenly, Gonzalez's knack for warmly drawing listeners back into the sounds of their youth made them remember exactly how quirky and uncool the '80s could be.
Over a series of festival and club nights across the country, Gonzalez has made a case for Junk's underrated charms, peppering a set of Hurry Up highlights with Junk gems that award the new material a big-band pomp capable of transforming even the kookiest compositions into crushing anthems. Friday night at Manhattan's Terminal 5, Gonzalez delivered an arresting hour and a half of lights and sounds that settled M83 on comfortable par with the year's best and brightest stage shows.
The first thing you noticed were the lights. The display was ever-changing, tailored closely and specifically to the music being played alongside it and full of puckish left turns. Spotlights behind the band that in one song seemed to be stationary began rotating in the next. Late in the set, they'd assist in dialing in the hammy eight count that rings in the chorus to Junk single "GO!" Throughout the night, the visual component felt like a physical manifestation of the gobsmacking majesty of M83's sound.
M83 plays loud but crisp, heavy but fleet of foot. The band's application of rock-and-roll physicality to electronic music works through the "dance music played by human hand" thesis of Daft Punk's Random Access Memories, without making a fuss about its intentions. This is perhaps because, unlike other acts in a similar sphere, M83 arrived at danceability as an exercise in sorting out what to do with tone and texture. As such, while "Midnight City" felt like a crystallization of ten years of self-discovery, it's a fundamental misunderstanding of what this band is — and always has been — to see it as a finish line.
What M83 is, as seen on the Terminal 5 stage, is an intuitive outfit of sharp multi-instrumentalists headed by Gonzalez but reliant on the unique talents of each individual player. As much of a writer, producer, and architect as Gonzalez is in this project, M83 at all times draws strength from the drums up. Over top of the powerful percussion sits an armada of synths, guitars, and, for Junk, gaudy saxophones. Gonzalez's disembodied vocals glide across the icy textures of the music, but he's found a foil in keyboard player Kaela Sinclair, who joined the band this spring after an open call and brings a grit to the mic Gonzalez often farms out to guest singers.
The Hurry Up, We're Dreaming songs were executed effortlessly and served to keep the crowd happy while M83 got good and weird. The early pairing of Junk's slow-burning "Walkaway Blues" and "Solitude" curtly loosed any notions that this was going to be a night of hits and also proved this band is capable of selling a bleeding-heart ballad as hard as the upbeat stuff they're known for of late. The still flawless "Midnight City" arrived late enough in the set to feel like a reward for following the band through the night's many twists, but not late enough to feel like the textbook set-closing hit. The evening's encore stretched graciously into the back catalogue, chasing the full-on rave moment of Saturdays + Youth's "Couleurs" with the Before the Dawn Heals Us epic "Lower Your Eyelids to Die With the Sun." In the end, the show proved a patiently judicious balancing act between pleasing newcomers and longtime fans while reminding both that, contrary to confused reviews, the new album crushes.