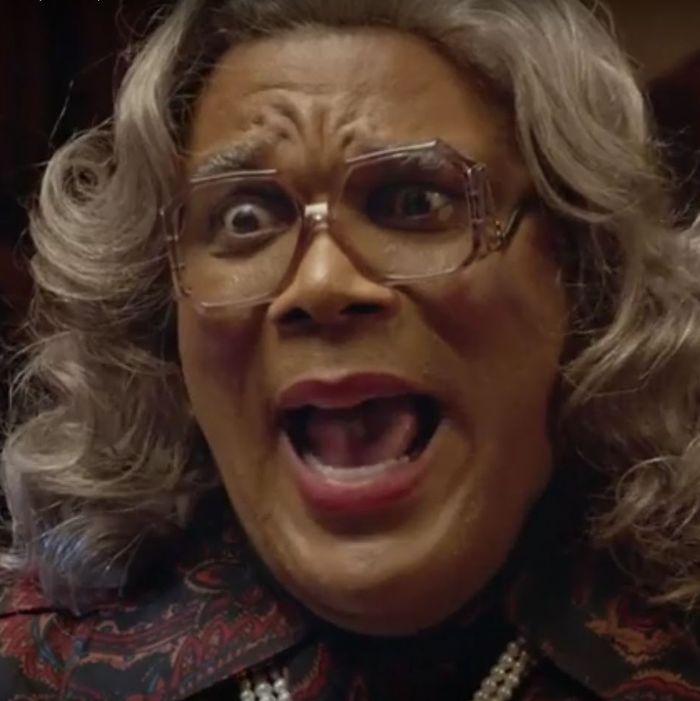 Tyler Perry in Boo! A Madea Halloween.
Photo: Lionsgate
The Main Story
Tyler Perry owes Chris Rock a beer: Boo! A Madea Halloween — a movie based on a joke in Rock's Top Five — came in at No. 1 at the box office this weekend, pulling in an estimated $27.6 million in its first three days of release. That's Perry's fourth-best opening ever, after Madea Goes to Jail, Madea's Family Reunion, and Why Did I Get Married Too? Like most of Perry's movies, Madea Halloween was panned by critics, but it also has the distinction of attracting a more diverse audience than usual: Variety notes that, while most of Perry's movies pull in a crowd that's between 80 and 90 percent black, Madea Halloween's audience was only 60 percent black, leading Lionsgate's David Spitz to boast to the mag that the movie had "crossed over."
In one further irony, in Top Five, the fictional Madea Halloween is seen competing at the box office with Rock's character's movie about the Haitian slave uprising, which flops. Rock spent that movie's press tour talking up his dream to make a movie about Nat Turner's uprising, only to see Nate Parker get there first with The Birth of a Nation — which hit theaters around the same time as the real Madea Halloween, and also flopped.
What Else Happened?
Tom Cruise and Cobie Smulders powered Jack Reacher: Never Go Back to a second-place opening of $23 million, better than the original's $15.2 million opening back in 2012. (Variety notes, though, that enthusiasm for the first Reacher may have been muted by the Sandy Hook shooting, which took place just days before it opened.) Never Go Back also pulled in $31 million from the international box office, a credible opening for the mid-budget action thriller.
Speaking of mid-budget action thrillers anchored by controversial leading men, The Accountant picked up $14 million in its second weekend of release, just barely edged out by Ouija: Origin of Evil's $14.1 million for the third-place slot. The latter opened to less than the original Ouija's $19 million, but since this is horror we're talking about, it's already more than made up its $9 million production budget. The Girl on the Train rounded out the top five with $7 million, while Keeping Up With the Joneses flopped, taking in $5.6 million in its first weekend.
On the indie circuit, Moonlight rode a wave of rapturous reviews to a $100,000 per-screen average in its handful of theaters, with Entertainment Weekly reporting that every showing of the film sold out this weekend. The tiny movie's Oscar hopes rest on as many people seeing it as possible, and based on this opening, it appears that audiences are indeed seeking out the magic of Moonlight.