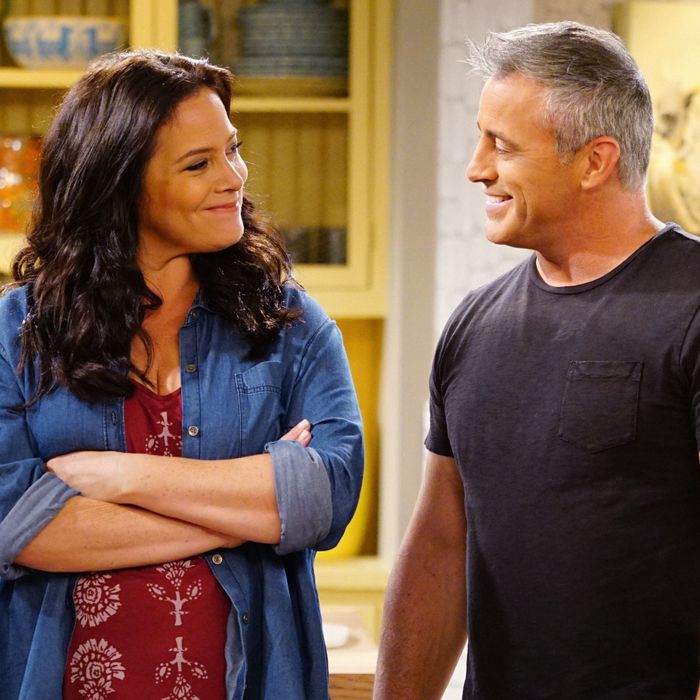 L-R: Liza Snyder as Andi, Matt LeBlanc as Adam.
Photo: Sonja Flemming/CBS
The most recent episode of Saturday Night Live featured a fake promo for a new CBS comedy called Broken, the story of a family of adjunct professors diagnosed with depression on the same day. The video sketch was both a parody of Transparent and a commentary on the fact that so many cable and streaming comedies are only comedies in theory. (In other words, it was this Matt Zoller Seitz piece in SNL sketch form.)
The bit also could be viewed as recognition that CBS — America's reigning king of the traditional, some would say outmoded sitcom — is doing something at least partially right. Its actual half-hour comedies may not be the "cable-iest" or most "award-worthy" shows. But, as the TV ratings often suggest, there is still a sizeable audience for programs that shoot for conventional humor synched up to a reliable laugh track, without sliding close to anything dramatic.
That brings me to the latest typical CBS comedy to join the network's lineup, Man With a Plan, which stars Matt LeBlanc as Adam Burns, a Pittsburgh husband and father of three who takes on more child-rearing responsibilities after his wife decides to return to full-time work. Its premise is the opposite of groundbreaking — ground-maintaining, I guess? — and its pilot, which debuts tonight at 8:30, is almost, but not quite, as dreadful as the first episode of Kevin Can Wait, the Kevin James vehicle that serves as its lead-in. Programming these two shows back-to-back is basically the TV equivalent of chasing a Budweiser with another Budweiser.
Still, the second episode of Man With a Plan, the latter of the two made available in advance, does demonstrate some ability to course-correct. It is by no means a great sitcom out of the gate, and it's about 8 billion light-years away from anything that could be described as cable-y. But there are worse ways to spend a half-hour. (You could watch Kevin Can Wait, for example!)
The initial pilot was famously retooled and reshot, with the role of LeBlanc's wife Andi, originally played by Jenna Fischer, recast with Liza Snyder (Yes, Dear) in the part. Fischer, such a natural in a more offbeat, understated comedy like The Office, didn't quite seem in her element, so the switch was a smart one. But there are still some significant issues with episode one, most crucially a completely antiquated idea of how parenting works. When Andi announces that she's returning to her full-time job as a medical technician, she tells the three kids that Daddy's in charge now because husband Adam is a contractor with a more flexible schedule. Almost immediately Daddy is overwhelmed by all the responsibilities involved in raising children, like the fact that kids make messes and disobey their elders, or how frustrating it is that they spend so much time staring into screens. It's as if the guy had never encountered kids — his own or anyone else's — in modern society until his wife went back into work.
The idea that a father would be so out of his element as the primary caregiver was funny back when Michael Keaton starred in Mr. Mom. But more than three decades later, the same material seems so out of step with the times that it's not even worth the energy required to be offended by it. Besides, there are plenty of other things in episode one to be offended by, like the multiple lazy jokes about how Teddy, the middle Burns child, constantly has his hands down his pants, or stupid cracks like this one, courtesy of Adam: "Hormones? My mom had those. She had to wear a patch just to keep from ripping our faces off." Women: They sure are crazy!
LeBlanc seems like he's on autopilot at times during the first episode, but he brightens in episode two, when Adam's brother and business partner Don (Kevin Nealon) show up and a whole bunch of sitcom-y shenanigans ensue about whether Adam plans to take Andi or Don to a Steelers game. Again, there is nothing inventive here; James Burrows, the veteran television director honored earlier this year with a special on NBC, knows the beats of comical misunderstandings and hits them accordingly. Writers Jeff and Jackie Filgo, the co-creators of the series, seem to realize their sense of family dynamics might make June and Ward Cleaver look like parental renegades, so they make more of an effort to show Andi and Adam working together to pack lunches and get the kids off to school. You know, the way regular people do.
I even chuckled once, when Adam gets pulled into an early morning seminar for parents at his kids' school and, as the room parent, is blamed for not bringing any refreshments. "What has happened in society that we can't go for 30 minutes without having a water?" he asks. LeBlanc — who honed his timing as America's favorite lover of sandwiches, Joey Tribbiani on Friends — strikes just the right tone of exasperation.
Okay, fine. I admit that it's not a hilarious joke. But not every show can be as well-crafted as Broken.