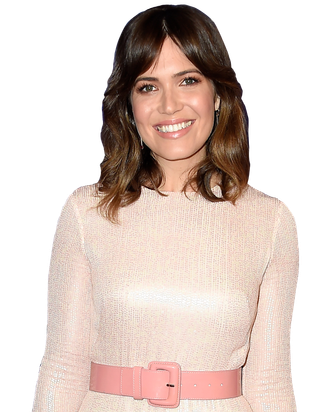 Photo: Frazer Harrison/Getty Images
Mandy Moore's return to TV in NBC's time-bending This Is Us shows her alternately as a young 30-something mother and a 60-something grandmother. The singer and actress didn't know she was signing up for a role that would span decades when she accepted the opportunity to play Rebecca Pearson, a happily married mother of three. (Milo Ventimiglia plays her husband Jack; Justin Hartley, Chrissy Metz, and Sterling K. Brown play the children, Kyle, Kate, and Randall.) Moore, 32, says she's enjoying the journey — and gets a kick out of actors older than her calling her "Mommy." Moore spoke to Vulture about the show's third episode, "Kyle," which reveals a big family secret, the show's twists, and playing a wife and mother for the first time.
Does it come as a surprise to you that while viewers and critics really seem to be enjoying the show's emotional family drama, there also seems to be a puzzle people are trying to figure out? 
[Laughs.] I never really thought about that. When I first read the [pilot] script, my jaw was on the ground after finishing the last couple scenes, and then I went back to the first page and started rereading it. I really wanted to be a part of it because I figured there's so many different ways this story could go. And then come July, when we started production up for the rest of the season, and we got the second script and then the third script, and then [executive producer] Dan Fogelman sat all of us down and walked us through these milestone moments that happen as a family. It's not just Milo and I that have to be on the same page, but Sterling and Justin and Chrissy have to know what happens in their childhood as well because that's going to inform the choices that they've made as adults and they need to be able to carry some of that information with them throughout their lives. So that was when we all first got a clue that things will be revealed slightly out of order. But I don't think any of us realized that the show was going to find the audience that it has and therefore people were going to be trying to decipher and pick apart the little details as they come to life.
This week's episode is very emotional and reveals Rebecca's big secret. She met Randall's (played by Sterling K. Brown) biological father soon after she and Jack took him home, and made him stay away from the family. What did you think when you read that?
I try to have empathy for a woman in that situation who had lost a child and was trying to bond with this child that she and her husband had decided to adopt and bring into their family. I think she was making the best possible decision at the time she could for herself and for her family moving forward. And I know that it will be controversial and some people will be upset by the choice that she made at that point in time. It certainly has ramifications as the show moves forward. Holding on to a secret like that, I can't imagine what she must have been going through and what William [Ron Cephas Jones] must have been going through. Although it hasn't necessarily been addressed for us as actors in any of the episodes, so far, I had to imagine that. I had to think about it as I was filming the scenes as present-day Rebecca. I had a child who asked me throughout his entire life, "Are we sure we don't know anything about my parents? You know nothing about where I come from? There's no way we can find out?" I had to imagine this was something that was asked of us and asked of me so many times throughout Randall's life. So to be able to still hold on to that secret and not tell a soul is really heavy and it really weighs on her. To come face-to-face with him 35, 36 years later — perhaps they've seen each other another time or two during the course of Randall's life — I can't imagine the guilt and the fear that she must feel because Randall's the child that she's closest to and the idea that anything could potentially hurt that relationship is devastating to her.
One of the things that makes you feel for her is to learn how she's struggling with her grief and with bonding with him, and seeing William actually helps her with that.
That's something she and her husband hadn't even thought of — changing his name, not giving him the name that they were planning on naming their other triplet. It's a beautiful moment. Watching that episode and the next one feels like putting the perfect pin in the pilot. At least for Jack and Rebecca, it sort of tied up everything. Like, Okay, cool, I understand how this family is going to move forward now in this. It was the perfect way to, not necessarily neatly tie up the pilot, but at least answer a lot of the questions.
In the present time, you're playing someone so much older than you. What is it like to have Sterling K. Brown call you "Mommy?"
[Laughs.] I love it! We really take the mom and dad thing to the nth degree. We had a cast dinner a couple of weeks ago, and we're all in like a text chain together and everyone's like, Hey Mom and Dad, thank you so much for planning that dinner. And I'm like, No, it was all Dad. Milo put it together. We have a lot of fun with it. It's pretty ridiculous considering that I'm younger than all of my children.
How have people been reacting to the big gut punch in the second episode? We learned something pretty crushing: Jack and Rebecca don't grow old together, and she's with Miguel.
Poor Jon! [Jon Huertas plays Miguel.] People hate Miguel. I'm like, Just wait, wait. There's so much story to unfold. I don't know if people will necessarily have that reaction once things are revealed.
What was your personal reaction to this development?
I'm a hopeless romantic so there was something inside of me that broke a little bit, like, No! I really wholeheartedly root for this couple and I believe in them. It activates that hopeless romantic in me that really believes there is that one person out there, and that these kinds of relationships, even in the midst of the crazy world that we live in, can blossom and thrive. So I'm a bit heartbroken by the fact they don't end up together, but I'm also really curious to see how and where the story takes them. Even if they don't grow old together, I still believe that they're soulmates. I believe that Rebecca never takes off that necklace and he's never far from her thoughts and her heart. So cheesy, but that's what I choose to believe.
This the first time that you're playing a mom and a wife. What challenges has that brought you?
Every challenge, because I've been a wife before so I know how that goes, but I've never been a mother so it was the most exciting part of endeavoring to take on a role like this — I just don't have that point of reference. But there has been something instinctual and biological about holding a baby. I really appreciate these beautiful families that volunteer and have their children be part of a project like this, 'cause shaking someone's hand like, Hi, I'm Mandy. Is it okay if I hold your 2-month-old child? I don't have a ton of experience with babies, but thank you for trusting [laughing] their life with me. And then they just hand over their child to you. The honor and the responsibility is not lost on me. But I don't know, I just jumped into the role. All of the kids are such terrific actors and they're totally game to let us be mom and dad. It just happened kind of naturally. I don't have too much experience with kids in my life, but hopefully one day.
What was it was like to see yourself 30-something years older?
We had so many makeup tests. I think we had five makeup tests and putting on the prosthetics takes about four hours each time, so I had a lot of time 'cause there were different iterations. Initially I looked too old, and then it wasn't enough. It was like a Goldilocks situation where we had to find a happy medium and a compromise that everybody was happy with. So I had lots of time to examine myself at various different ages. And the weird thing is, everyone's asked me, Do you look like your mom or do you look like your grandma? And I think because of the wigs that they chose, my hair is so different, I don't feel like I look like anybody I knew growing up. All of my grandparents have passed away and I look way more like my dad than I do my mom anyway. So even looking back at pictures, I can't really see myself in anybody. It's weird watching it, seeing the third episode going like, Wow, I wonder if that is how I'll age. I'd be pretty okay with it. Rebecca's taken fairly good care of herself. I'm embracing aging. I'm ready for that to happen in the next 30 years. I'm not scared of it.
This interview has been edited and condensed.