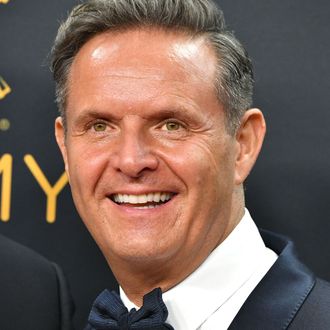 Photo: Steve Granitz/WireImage
Mark Burnett is pushing back on a report that he's been personally orchestrating an effort to keep Donald Trump's possibly controversial outtakes from The Apprentice under wraps. Over the weekend, BuzzFeed News, citing a single unnamed source, claimed Burnett was "pro-Trump" and "has threatened staffers" with legal action if they chose to leak footage to the many media outlets attempting to uncover the next Access Hollywood tape. But late Monday, Burnett and Hollywood studio MGM, which owns Burnett's company as well as his stake in The Apprentice, released a statement flatly denying key elements of the BuzzFeed story. "The recent claims that Mark Burnett has threatened anyone with litigation if they were to leak such material are completely and unequivocally false," the statement read. The producer and studio also both claim, "Despite reports to the contrary, Mark Burnett does not have the ability nor the right to release footage or other material from The Apprentice" because said property is now owned by MGM and not Burnett.
Anticipating the next obvious question — why doesn't MGM just let the footage out? — the studio says "various contractual and legal requirements also restrict MGM's ability to release such material." Reading between the lines, this would seem to match with the theory we floated Saturday: Trump, as part of his deal to exit his role as host and producer of The Celebrity Apprentice, may have demanded outtakes from the show stay hidden. Finally, on the matter of the BuzzFeed insinuation Burnett is keeping the outtakes private as a result of his personal support of Trump, Monday's statement is a bit fuzzy. Rather than deny Burnett is supporting the GOP nominee, the statement hedges: "To be clear, as previously reported in the press, which Mark Burnett has confirmed, he has consistently supported Democratic campaigns." That's what folks in Washington like to call a non-denial denial. Burnett seems to want to suggest he's not pro-Trump because he's "supported Democratic campaigns," but the statement is actually silent on where he stands in the current election.