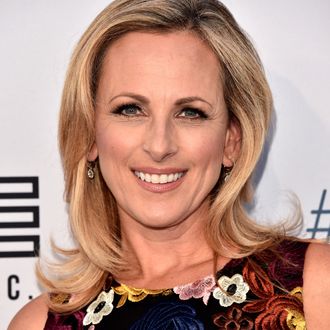 Photo: Alberto E. Rodriguez/Getty Images
Producer Mark Burnett and MGM have been inundated of late with calls to release unused footage from The Apprentice after allegations surfaced that Donald Trump had made a slew of derogatory comments to contestants behind the scenes. And as long as those tapes aren't released, people can speculate and comment on the abhorrent things Trump may have said while filming the show without anyone being able to officially prove or disprove the claims. One of the most recent claims concerns Trump's treatment of Oscar-winning actress Marlee Matlin, who was a contestant on Celebrity Apprentice in 2011. Multiple unnamed sources told the Daily Beast that the reality-TV star mocked Matlin for being deaf, made sexually inappropriate comments to her, and used derogatory language when talking to others about her. Matlin declined to offer a comment to the Daily Beast, but has now issued a response to claims about Trump via Twitter:
Just a reminder that Election Day is November 8.