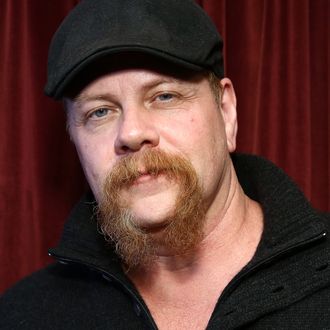 Photo: Monica Schipper/Getty Images
Spoilers ahead for the season-seven premiere of The Walking Dead.
After The Walking Dead's season-six finale, we knew someone was going to see the end of Negan's bat, and eeny, meeny, miny, moe, it's you, Abraham Ford. The killing didn't end there, however, as Negan was well-prepared to take out two fan favorites before the end of Sunday night's season-seven premiere with the death of Glenn. After the cruel reveal, the actors, Steven Yeun (Glenn) and Michael Cudlitz (Abraham), stopped by Chris Hardwick's The Talking Dead to discuss their characters' fates. Cudlitz, seemed to be happy that his character got to live as long as he did, telling Hardwick:
Look, for anyone who follows the graphic novel, he's on borrowed time. Denise took his death graciously two episodes prior … so I think at that point I had gone beyond where he was in the graphic novel. I know [comic creator Robert Kirkman] always said he was not happy with how he took Abraham out in the graphic novel so I was curious to see where we go from there. And yeah. I think in the group he made it very clear to Negan that if he was going to take somebody, take me if it's going to help protect the rest of the group.
Cudlitz was also rather pleased that Abraham got to maintain his ginger-with-a-zinger reputation to his final words: "Suck my nuts."  "To actually insert something in there, I thought it was awesome," Cudlitz said. "And I think it's very, very appropriate for him to go out that way."
Read Steven Yeun's thoughts on Glenn's departure here.