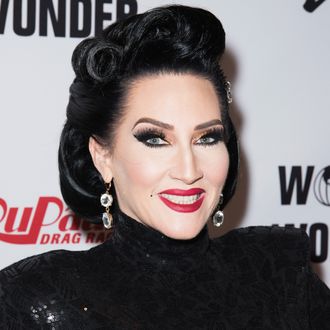 RuPaul's best squirrel friend.
Photo: Tara Ziemba/Getty Images,
Michelle Visage, one of RuPaul's closest friends and a mainstay on the judging panel for RuPaul's Drag Race, has a reputation as "the mean one." But unlike some of the drag queens, she's learned to embrace her villain edit. "I 100 percent stand by what I said," Visage told Huffington Post U.K. about her critique of Adore Delano in the premiere episode of RuPaul's Drag Race All Stars. "I prefaced it by saying, 'This is All Stars 2, so I'm absolutely taking no prisoners. This is the best of the best in the game,' and I felt that she came on a little … less than what I had hoped for."

The scene resulted in Adore's decision to walk away from the show in the middle of production, which triggered mass finger-pointing at Visage despite Adore's own attempts to point out that her decision to leave was due more to personal reasons. As is the ritual on social media, Visage received death threats over what happened, but true to form, she's a lot tougher than some online trolls.
I took a lot of heat. Death wishes … all that shit. It comes with the territory, so it didn't really affect me. But what made me sad about the whole thing was a) this is a TV show, this isn't real life, b) Adore and I are actually friends, for those that don't know, c) Kids that I fight for every day when given a platform, every minute of every hour of every day that I can, I fight for these kids. I fight for them not to be bullied, I fight for their rights. And these are the first kids to attack me.
Now can we get back to what it was that Raven-Symoné said to Adore on the runway?