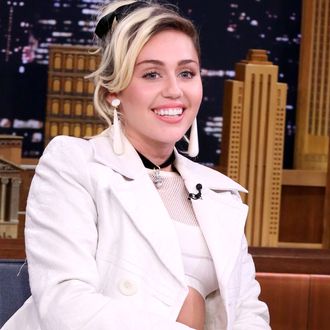 Despite the fact that his reputation has been marred by accusations of sexual abuse, Hollywood stars continue to work with Woody Allen, and in turn, come up with new justifications for doing so. Miley Cyrus, who starred in Allen's recent Amazon series Crisis in Six Scenes, gave her explanation in an interview with Variety, saying:
I live a similar life to Woody — I live a public life. Until I know someone and I know their story, I never really judge anyone. That's kind of how I went into it. From the way I saw him with his family, I never saw him be anything but an incredible person and a really great dad. People might slam me for saying that. I'm sure it was a hard time for that family. My family has been through hard things, and I think everyone's suffering is different.
For those keeping track at home, Cyrus's explanation is nearly the same as Kristen Stewart's. At Cannes, Stewart also argued that she herself has been misunderstood as a public figure and thus couldn't judge Allen. If she and her Cafe Society co-star Jesse Eisenberg "were persecuted for the amount of shit that's been said about us that's not true," Stewart said, "our lives would be over."
Elsewhere in her interview with Variety, Cyrus discusses coming out as pansexual, her support for the LGBTQ community, and why she likes working with Allen so much. "You do like two takes," she said. "He just wants to go home and have dinner with his wife. One night it was 5:30, and the camera operator wanted to do another take. He goes, 'I can't dedicate my entire life to making movies.'" But, Woody, you were making a TV show!