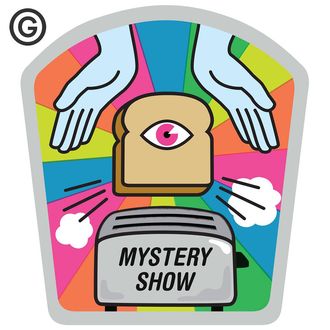 It's a whole new mystery.
This might explain why you haven't heard much news about that podcast you love: Mystery Show, the podcast that charmingly investigated the small mysteries of life has had its run cut short. Creator Starlee Kine announced the news on Facebook, writing that her producers at Gimlet Media let her go in April as she was at work on the show's second season. "I lost my staff, my salary, my benefits, my budget and my email address," Kine writes. "Mystery Show is the only show this has happened to at Gimlet. Just a few months prior, iTunes voted it Best Podcast of the Year." In the wake of that news, Kine says that she has spent her time trying to work out a way to continue the show, though she hasn't yet found a solution. Perhaps it's time to turn the tables and recruit Jake Gyllenhaal to help solve this mystery.
Update: Gimlet has posted the following statement about Mystery Show on its site:
Mystery Show, the Gimlet Media podcast created and hosted by Starlee Kine, expanded the notion of what a podcast could be. Each episode, Starlee solves a mystery that has been bedeviling someone for years. But Starlee knows what any true fan of mystery knows: the solution isn't the point of the mystery, it's the journey to the solution where all the delight is to be found. Gimlet is incredibly proud of Mystery Show — it was voted the #1 podcast of 2015 by iTunes and garnered widespread critical acclaim. Without a doubt, Starlee is one of podcasting's brightest talents.

Mystery Show is an ambitious production and Starlee has an uncompromising vision for the show, which is what makes it so great. However, these factors combined make Mystery Show unsustainable to produce and publish on a consistent basis, and therefore Gimlet will no longer produce new episodes of Mystery Show. We are in discussions with Starlee to reach an agreement where she may produce Mystery Show independently of Gimlet.
Gimlet's co-founder and CEO Alex Blumberg also addressed the news in his own podcast. Reiterating Gimlet's high opinion of Mystery Show, he said that while there are some things "which need to remain private … what I can tell you is that I'm really, really sad, and I wish Starlee all the best." Listen to the statement in full below.