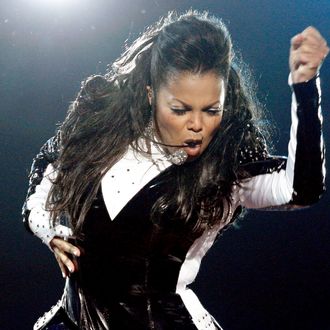 That's Ms. Jackson to you.
Photo: Christopher Polk/Getty Images
This morning, America heaved a collective sigh of relief upon the realization that we are finally free of the obligation to watch Donald Trump "debate" Hillary Clinton. But perhaps none of us sighed with as much pleasure as Janet Jackson — given that a 30-year-old song of hers has suddenly become a genuine hit again. Pivoting off of Trump's comment that the former secretary of state and Democratic presidential nominee is a "nasty woman," women around the country embraced/took back the moniker via meme creation, changing their Twitter names to "Nasty Woman" and buying up website URLs — apparently all while cranking Janet Jackson's 1986 hit song "Nasty" on Spotify and screaming along. Streams of the track jumped approximately 250%, according to the service (which is notoriously coy about its exact numbers). Thousands of women (and probably a couple of men, but let's be honest) cranking your empowerment anthem to drown out the sounds of a long national nightmare? Alongside the news that she's about to be a mom for the first time ever, Jackson's got plenty to celebrate.