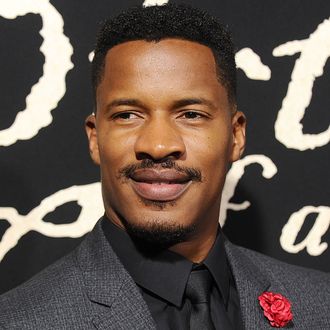 Nate Parker.
Photo: Jason LaVeris/FilmMagic
On 60 Minutes Sunday night, director Nate Parker offered no apology over the 16-year-old rape allegations that have come to light in advance of the release of his Nat Turner biopic, The Birth of a Nation, and insisted to those hesitant about supporting the film that Turner's story deserves to be seen.
Sitting down with Anderon Cooper, Parker, as revealed in a clip released in advance of the episode's airing, wouldn't apologize for his actions surrounding the allegations against him and his roommate, Jean Celestin, for sexually assaulting a college freshman in 1999. In the 2001 trial, Parker was acquitted; Celestin was convicted, but his verdict was overturned on appeal. The woman declined to testify again. She later dropped out of school, and committed suicide in 2012. "I don't feel guilty," Parker said about the events. When pressed, he added, "As a Christian man, just being in that situation, yeah, sure. I'm 36 years old right now. And my faith is very important to me. So looking back through that lens, I definitely feel like it's not the lens that I had when I was 19 years old."
"But, you know, at some point I have to say it," Parker continued, struggling to maintain composure. "I was falsely accused. I went to court. I sat in trial. I was vindicated — I was proven innocent. I was vindicated. And I feel terrible that this woman isn't here. I feel terrible that her family had to deal with that. But as I sit here, an apology is, no." Elsewhere, Parker said that he was surprised at the criticism of his continued relationship with Celestin, who helped write the script of the film, and insisted that Celestin is also innocent. "The reality is Jean went to jail for something he did not do," he said.
In other interviews taped before the news of Parker's accuser's suicide broke, and after Birth of a Nation's record-setting $17.5 million acquisition at Sundance, Parker and Cooper traveled to Southampton County, Virginia, the site of Turner's rebellion. "I'm reclaiming a hero," Parker said, adding that his project, which had been years in the making, wasn't meant to be 100-percent historically accurate. Instead, he argued that, bloody as his rebellion was — Turner and his fellow rebels killed dozens of white slave-owners, women, and children indiscriminately, and, in retaliation, white mobs killed hundreds of slaves also indiscriminately — Turner's story deserves to be remembered, like George Washington's or those of America's other founding fathers. "I don't want a story that's digestible," Parker added. "I want this to be something that makes us think, that makes us question who we are."
To that end, Parker said that he hopes his film inspires viewers to realize that "resistance is an option" and encourages "a riotous disposition to injustice." In place of the tools of Turner's revolt, he said people should employ nonviolent means of protest, through social media, for instance.
Near the end of the segment, Cooper asked Parker to address those who may not see the film in light of the allegations against him. "I do feel that's unfortunate," Parker said, insisting that the story and Nat Turner's legacy is "bigger than me. I think it's bigger than all of us."