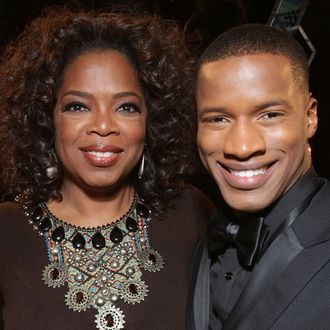 Never turn down Oprah.
Photo: E. Charbonneau/WireImage/Getty Images
As Nate Parker's The Birth of a Nation opens this weekend, the debate over how he could've better handled the fallout from resurfaced 1999 college rape accusations against him is only heating up. Now, it has come to light that one of the most influential people on the planet reportedly tried to advise Parker at the outset of the controversy. According to The Hollywood Reporter, Oprah Winfrey suggested that Parker do an interview with her best friend Gayle King on CBS to discuss the allegations shortly after they were dug up. (Oprah was one of the first to screen Birth and had praised both the film and Parker on Instagram.) However, Parker was reportedly so "angry" that the charges he'd been acquitted of were being discussed at all that he turned down her help. Since then, Winfrey hasn't uttered another word about Birth or Parker, proving why you never, ever say no to Oprah.
Sources also tell THR that Fox Searchlight, the studio that bought Birth for a record sum, hired a team of PR experts and consultants that included retired NFL player and sexual-violence activist Don McPherson to get Parker "on message," to no avail. "They gave him talking points and he just didn't execute," says the source. As for Birth's Oscar chances, Fox is now said to be throwing the bulk of its weight behind its recently acquired property Jackie, the Jacqueline Kennedy Onassis biopic starring likely Best Actress contender Natalie Portman.