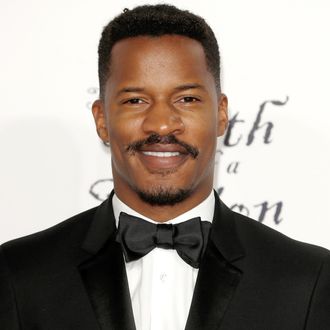 Parker.
Photo: John Phillips/Getty Images for BFI
A state investigation into the way Penn State officials handled the Jerry Sandusky pedophilia scandal has unearthed more past allegations against Nate Parker. The New York Times reports that the investigation found that while the Birth of a Nation director was on trial for allegedly raping a fellow student, he was also accused by another woman of indecent exposure. Parker was accused of rape in 1999 and later acquitted of the charges. Resurfaced interviews, court records, and other documents now show that Penn State and its athletics department may have been "lenient" in their treatment of Parker following the original allegations. At the time, he was suspended from the wrestling team and was reinstated in the fall of 2000 while facing trial. Then, the records show, "within weeks, a female student-trainer complained that he had exposed himself to her. But after she decided not to go to the police, despite the urging of the university, Penn State appears to have dropped the matter."
In a statement to the Times, Parker's lawyers say, "This is the first Mr. Parker has ever heard of this. He recognizes the seriousness of the issue, but this claim is completely untrue." The state attorney general's office is now said to be investigating whether former Penn State athletic director Tim Curley — one of the three school officials currently being prosecuted for not reporting Sandusky's crimes — also mismanaged Parker's indecent-exposure accusation. Parker, however, is reportedly not being investigated.