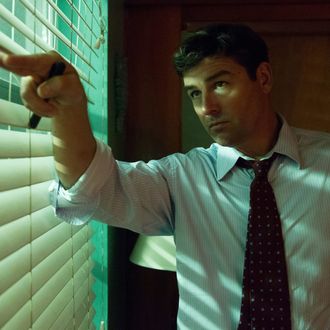 Kyle Chandler watching the money roll in.
Photo: Saeed Adyani/Netflix
The mostly benevolent bog of content production known as Netflix is taking on $800 million in debt, in addition to the total of $2.37 billion in long-term debt it held as of this September. That's according to a report from Variety, which notes that Netflix's language around the loan is fairly boilerplate — this is just one big company making a big bet for the future, but the loan also gives a glimpse into Netflix's aggressive content-production scheme. Variety mentions that a significant portion of the site's spending goes toward producing original content — fueling the site's plans to have half its library be original material in the near future — and convincingly argues that most of this loan will go toward making that content. In 2017, the site plans to spend around $6 billion on content, which tends to be pretty expensive — especially since Netflix tends to pay for things like upfront premiums in addition to production costs. For instance, this new loan won't all go to new programming, but if it did, it could only buy a little over three three-season runs of the dearly departed Bloodline (Netflix spent roughly a quarter billion on three seasons of the series), or only a little more than four seasons of The Get Down (Netflix reportedly spent more than $190 million on the first season alone).
On the one hand, those massive costs aren't are risky as they seem, because they're amortized over a long period of time; the site tends to keep the rights to its own programming and thus keeps making money off the bet that people will keep checking in on Kyle Chandler's sad face for years into the future. On the other, nobody really knows which Netflix shows are hits. Money is crazy!