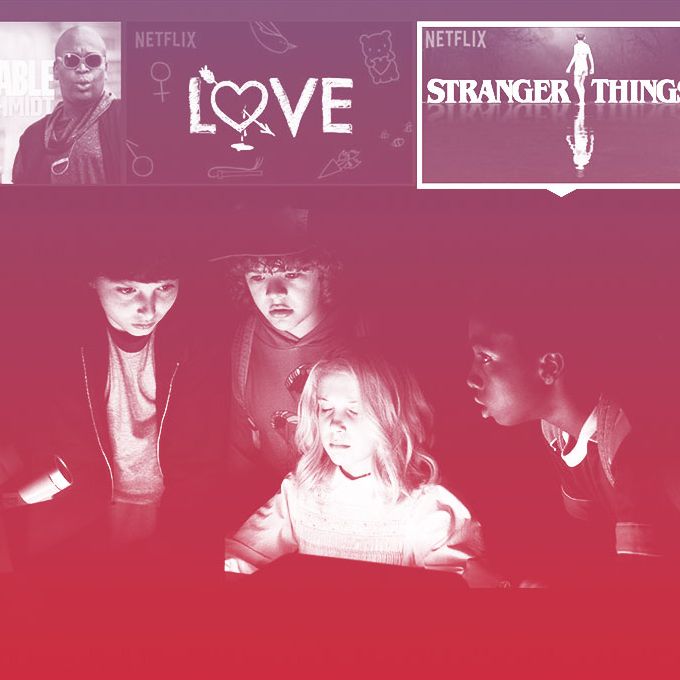 Photo-Illustration: Vulture and Netflix
Netflix announced today that it's finally enabling users to download shows and movies for those times when internet is hard to come by — flights and subway rides and such. It's a much-anticipated feature, one that rivals such as Amazon have long offered, and it's sure to improve the overall Netflix experience. (App users need to just make sure they have the latest version.) But that's simply the latest and most publicized way to get more out of your Netflixing. Here's an assortment of other tips and tricks to ensure that you're squeezing every bit of binge-watching goodness out of your account.
1. Save Your Mobile Data (or Use a Ton)
Streaming in HD devours data, so if you're using the Netflix mobile app, be careful not to blow past your mobile plan's data limits. To be certain that you don't, navigate to the app's "Cellular Data Usage" setting to toggle between Wi-Fi only, low, medium, high, and unlimited settings. That "unlimited" option lets it go crazy — according to a Netflix rep, it uses about 1 gigabyte every 20 minutes.
Alternately, just remember to download anything you want to watch while you're wrapped in a warm blanket of Wi-Fi at home. Then you'll never again have to worry about data limits.
2. Watch in HD
You can keep things cranking in high-def by going to Netflix's playback settings menu, though first make that your subscription allows for high-definition viewing. Bonus: You can also use the playback settings menu to turn off the auto-play feature that keeps episodes rolling.
3. Say Good-Bye to Pixelation
Your Netflix resolution can turn on a dime. The service is constantly evaluating your internet connection, automatically cranking the clarity up or down depending on available bandwidth. The good: The service does a pretty solid job, even if your internet sucks. The bad and the ugly: Sucking internet can cause your once-clear picture to quickly deteriorate into a mess of pixels. Luckily, you can take control of this automatic process to ramp up your resolution, even if your internet is shaky.
First, you need to unlock some hidden menus. While your movie is playing in a browser, hit Control+Shift+Alt+S (or Control+Shift+Option+S if you're on a Mac). This will bring up a menu with a series of columns. Find the one that says "Video Bitrate," highlight the highest figure available, and click "Override." Highlighting more than one number (perhaps the top three or four) will allow Netflix to switch between a few selections, giving it some wiggle room while still keeping things from looking like a Cubist painting. One thing to note: There's a reason Netflix downscales resolution for poor internet connections. If your 'tubes can't handle high-def, expect buffering.

4. Rate Everything for Better Recommendations
No matter what you watch, the five-star rating system will help Netflix's algorithm narrow down the best suggestions for your unique tastes. You can further refine those recommendations by breaking out different profiles for each member of your household.
5. Add Trailers, Rotten Tomatoes Scores, and IMDb Ratings
In Netflix's typical layout, you're offered star ratings based on what users with similar tastes to your own thought of a movie or show. But do you demand more, including critics' rankings? Then you'll want to take advantage of the free Chrome extension NEnhancer. The tool allows you to see a film's Rotten Tomatoes score as well as its IMDb rating and pop-up trailers.
6. Learn How to Find Better Movies
With such a vast catalogue, half the fun of Netflix (and most of the challenge) is simply finding something you want to watch. A few years ago, several sites began using Netflix's public API to sort movies by rankings like Rotten Tomatoes score. Unfortunately, Netflix revoked its public API in 2014, and many of these sites withered away. Still, a handful of third-party sites live on, either because they've figured out workarounds or have been granted private API access by Netflix. A few good ones to start with: AllFlicks and InstantWatcher. The Best of Netflix subreddit is another solid source of suggestions. (Also consider swinging by Vulture's What to Stream Now hub.)
7. Unlock Hidden Categories
Netflix is known for its absurdly niche categorizations — in January 2014, The Atlantic charted more than 76,000 subcategories on the service — but the site only shows each user a tiny sliver of it full catalogue, making it difficult for users to dig deep.
Thankfully, accessing these subcategories is pretty easy. All that's required is a simple URL hack, where Netflix assigns each category a number. If you copy and paste the Web address "https://www.netflix.com/browse/genre/NUMBER," just replace "NUMBER" with the category's designated number, and it will bring you to the desired genre. Sites such as netflixcodes.me and netflixhiddencodes.com make it easy to find the category codes for genres that interest you. Just how specific does this get? The code "1" gives you "African-American Crime Documentaries," while "11111" gives you "Movies Starring Cher."
8. Don't Just Search for Titles
Netflix lets you search for a lot more than just movies or TV shows. Typing "Netflix" into the search bar will show you Netflix's original programming, while searching for "4K" or "HDR" limits results to content that streams in these next-gen standards — a great way to make use of a new 4K or HDR-enabled TV.
9. Pick the Best ISP for Streaming
It's tough to know how well your internet provider handles data-hungry services like Netflix. Thankfully, Netflix's site offers an ISP speed index that ranks different providers in a wide variety of countries by how well they can handle your binges. Verizon FiOS comes out on tops in the U.S., while New York stalwart Time Warner Cable chugs along at sixth place, just behind Comcast. (We'll see if that changes post-merger.)
10. Remember Your Keyboard Shortcuts
Netflix is chock-full of shortcuts that let you leave the mouse alone. For easy reference, here they are:
The space bar and enter key function as pause/play buttons.
PgDn pauses, while PgUp plays.
F will take you to full screen; Esc will take you out of it.
Shift + left arrow will rewind, while shift + right arrow will fast forward.
The up and down arrows should impact volume levels.
M is a toggle for mute.
11. Make Subtitles More Legible
Want to tweak your font size or color of subtitles? Go to your account page and select "subtitle appearance." You can even mess with the text's background and shadow.
12. Kick Freeloading Friends to the Curb
If you've been generous with your Netflix password over the years, there's no telling how many leeches are using your account (and seriously messing with your algorithm). To give them all the boot at once, go to your account page and select the option to "sign out of all devices." Then change your password while trying to resist cackling maniacally.
13. Try Out New Features Early
Netflix is constantly rolling out new features designed to enhance the viewing experience. If you want to get first dibs, you can opt into their "test participation" program by going to your account page and selecting the option for "test participation."
Note: Vulture published a previous list of Netflix hacks in 2014. This updated list includes several of the original tips that are still working and relevant.