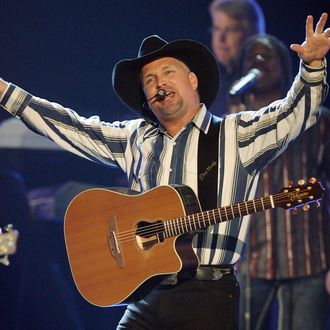 Garth Brooks and Fritos: A Corny Collaboration.
Photo: Ethan Miller/Getty Images
It's hard to make money in the music business these days, and a creative approach is key. Maybe that's why country superstar and erstwhile Chris Gaines alter ego Garth Brooks bowed to the gods of marketing to drop his new single via … chip bag. An official press release revealed that Brooks has partnered with Frito-Lay to include a download code for his new song "Baby, Let's Lay Down and Dance" with every bag of Fritos Corn Chips sold in these magnificent 50 states starting this month. The song's title hints at something a little naughty, so, hey, good for you, Frito-Lay (a division of PepsiCo), for taking a corporate stance that sex exists and is somewhat like dancing lying down. The new single, which drops worldwide tomorrow, points to a forthcoming new album, though none has been announced as of yet. Brooks is also set to release a 25th-anniversary edition of his classic album No Fences and a record of holiday duets with wife Trisha Yearwood — both of which will be discounted upon release with, you guessed it, a code from a Fritos bag. And while this seems like a missed opportunity to rename the new single "Baby, Let's (Frito) Lay(s) Down and Dance," it's a totally seized opportunity to irrevocably link sex and corn chips in your mind.