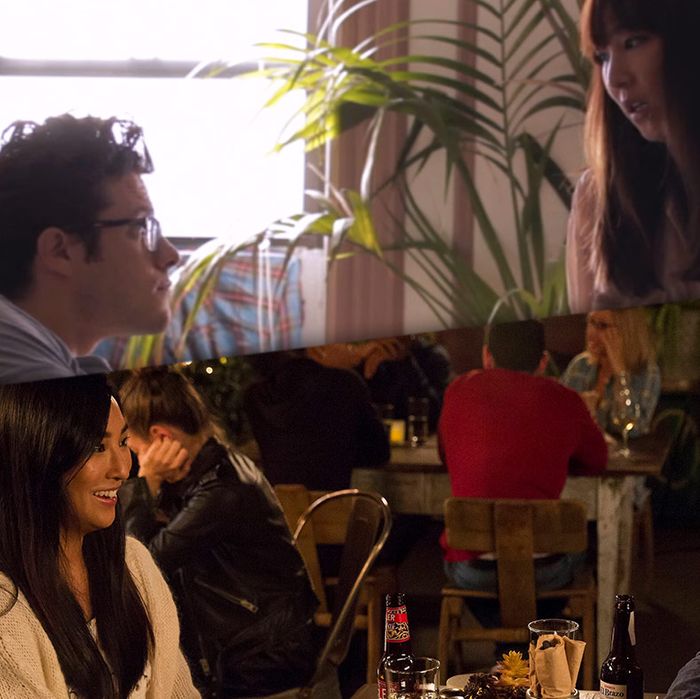 "Selfie," the fifth installment of HBO's new season of High Maintenance, fittingly has the show reflecting on itself. In the first act, "the guy" (Ben Sinclair) sits down for an interview with a social-media-obsessed woman who ends up asking him about the racial dynamics of his clientele, somewhat interrogating the premise of the show. The entire episode is filled with meta references — characters work around a Girls crew that's shooting in Brooklyn, while Hannibal Buress, playing himself, talks about his job on Broad City — but it anchors the action with a solid dig at a fellow TV series. In the second act, "Homeless Heidi" (Greta Lee, returning as a character first introduced in 2012) discovers that an ex (Kyle Harris) has written a network TV show about her life without her consent. The show stars a scammer named "Helga," played by Orange Is the New Black's Kimiko Glenn (who "isn't even Korean, you fucking racist," as Heidi tells her ex), with Brett Gelman as "the guy" and Ben Feldman as Harris.
See, in the show within the show, Helga, like Heidi, is homeless, and she has a habit of crashing with boyfriends in order to find a place to stay. That was the plot of Greta Lee's first episode of "High Maintenance," but it's also a story line that popped up on the fourth season of New Girl, where Lee played Jake Johnson's love interest, Kai, who's presumed to be homeless, though it later turns out that she's rich. Sinclair and co-creator Katja Blichfeld noticed the similarity, and joked about it in an interview with Salon in 2015. "At first, I was very upset about that. Now I'm actually kind of flattered by it, in a whole mix of complicated emotions," Sinclair said. "I don't think they could intuit what it would look like and that when they saw it, visually out there, that it would so closely resemble what we did," Blichfeld added. "That is really what made all these people start tweeting us like, they ripped you off! We may comment on it in the future, in a veiled way. We're working on it." Sinclair suggested they might feature Zooey Deschanel in their episode. "She can be a ukulele maker, and she can make custom ukuleles that she sells on Etsy," he said.
Now, "Selfie" doesn't feature a Z.D., but it does have Glenn's Helga happily strumming a ukulele — and living in a brick-lined apartment that looks a whole lot like the one in New Girl. But most tellingly, High Maintenance reveals its hand with a brief credit sequence that starts about 14 minutes into the episode and features a collage of Heidi's face, bright-yellow-bordered sans serif font, and a twee little ditty of a theme tune. Sound familiar?