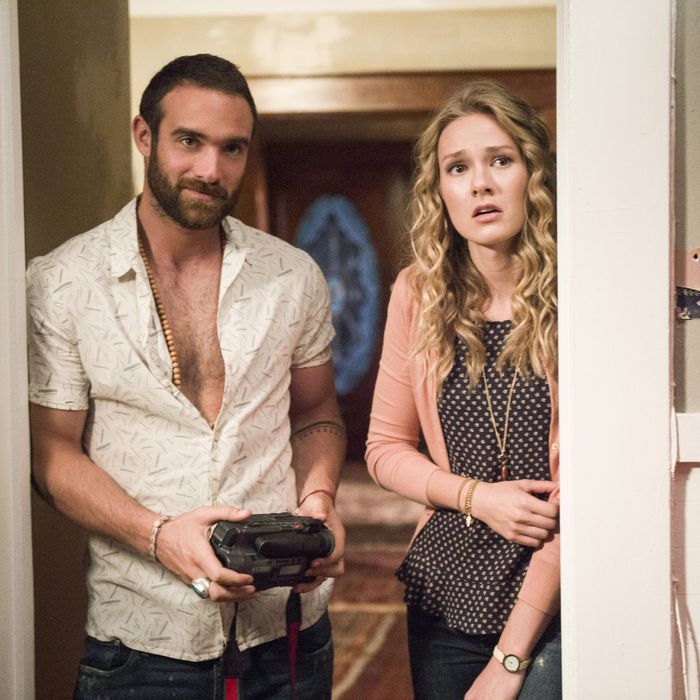 L-R: Joshua Sasse as Xavier and Tori Anderson as Evie.
Photo: Diyah Pera/THE CW
TV has long been obsessed with what happens after an apocalypse. The causes of its disasters have differed — there have been nuclear attacks, environmental meltdowns caused by overpopulation, plain old viruses, zombie-related viruses, hurtling comets — but the shows that explored this subject matter tended to be dramas, usually of the sci-fi or horror variety. (Maybe it's comforting to think that the end of the world is so improbable, it can only be the stuff of genre fiction? Feel free to discuss among yourselves while hanging out in your bomb shelters.)
Lately, though, more comedies have turned to doomsday scenarios, most notably Fox's The Last Man on Earth but also NBC's canceled You, Me and the Apocalypse, and, now, the CW's No Tomorrow, which debuts Tuesday at 9 p.m. Actually, No Tomorrow isn't so much a post-apocalyptic comedy as a pre-apocalyptic one. In it, Evie (Tori Anderson), an excessively organized employee of an Amazon-esque e-commerce company, meets Xavier (Joshua Sasse of Galavant), an attractive, carefree neighbor who seems like the perfect man until he explains the reason behind his buoyancy: He's learned that an asteroid will strike Earth in exactly eight months and 12 days, and therefore is living every day like it's one of his last. Because it is. He's even made an "apoca-list" — a bucket list for those attempting to tie up loose, aspirational ends in pre-Armageddon times — and is eager for Evie to join him on his mission. But Evie — like every uptight fictional female who color-coordinates office pens and responds to marriage proposals by saying "let me get back to you" — has some reservations about that plan.
That setup, vaguely reminiscent of the Steve Carell/Keira Knightley movie Seeking a Friend for the End of the World, provides a somewhat unusual framework for what is, essentially, traditional rom-com fare. Among other classic tropes of that genre, No Tomorrow features a gorgeous heroine who's shy and a little awkward, thereby making her relatable; a love triangle that forces the heroine to choose between the adventurous hot guy and a boring, reliable one (Jesse Rath); friends and relatives of the heroine who constantly pop into the picture when a wry comment or clueless question is needed; and a meet-cute custom-designed for the organic-and-pesticide-free generation. (The first Evie/Xavier encounter occurs at a farmers' market while she's asking a vendor important questions about rutabagas.)
All of that makes No Tomorrow sound more insufferable than it actually is. It may not be wildly groundbreaking, but this series — based on the Brazilian comedy How to Enjoy the End of the World and executive-produced by, among others, Jane the Virgin vet Corinne Brinkerhoff — is a mostly pleasurable, breezy way to spend an hour (43 minutes without commercials). It's also a show that neatly fits into a CW family that already counts Jane the Virgin and Crazy Ex-Girlfriend as its offspring. While No Tomorrow may not be as inventive as its two sister series, it's aligned enough in sensibility that it seems odd that each one airs on completely different nights.
Key to the show's success are its two leads. Anderson, a Canadian actress starring in her most high-profile role to date, delivers a charming, daffy, yet grounded performance, while Sasse, as fans of the departed Galavant already know, oozes charisma. Are the guys in your neighborhood who harbor asteroid-related conspiracy theories this good-looking and/or in possession of such alluring accents? Of course not. But No Tomorrow isn't going for authenticity so much as high-energy escapism. One's ability to enjoy this series will hinge entirely on a willingness to suspend disbelief and embrace its sense of fun, a process that also requires an ability to overlook some contrivances in its writing. Example: Evie more officially gets to know Xavier after a case of his microbrewed beer gets accidentally delivered to her front porch. The microbrewery name printed on the box is Carpe Diem, a detail that can only be greeted with two more words: "Oh" and "brother." But when Evie drops off the package and discovers that Xavier, hot seizer of days, lives in a house with both a pinball machine and a Pop-A-Shot, it's amazing how quickly such obvious symbolism can be forgotten.
A bigger flaw in the No Tomorrow pilot is that it jams so much damn plot into a single episode. Within those initial few minutes we get: the aforementioned meet-cute; a marriage proposal that emerges out of nowhere; a work crisis; a medical emergency; an empowering live-karaoke scene, as is a requirement on TV these days; and more than one breakup and make-up. It's like No Tomorrow was a feature film that someone decided to cut in half and condense for the CW audience.
If this comedy can slow down a bit, settle into the characters, and shove aside its clichés in favor of its more clever, knowing dialogue — "It's like you live in a Skymall catalogue," Evie marvels as she tours Xavier's house of impetuously purchased items — it could be a real winner.
"Just don't be one of those women defined by the quest to find the guy. It's boring." That advice comes from Evie's co-worker Kareema (Sarayu Blue) and plays like a loving dig at Rebecca of Crazy Ex-Girlfriend or Jane of Jane the Virgin, as well as the sounding of a cautionary note for this series. As rom-com-y as it might be, so far, No Tomorrow is more about a woman trying to connect with her own bliss, while maybe finding a guy in the process, than the story of a girl seeking nothing more than a boy. Admittedly, there's a very fine line between those two types of quests. But in its first episode, No Tomorrow suggests it may be able to stay on the more interesting side of that delicate divide. As to whether it actually pulls that off as the season progresses, as Evie herself might say: Let me get back to you.