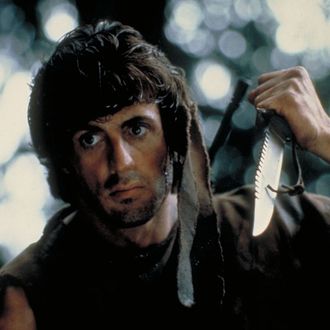 We go to Sylvester Stallone for a response.
Photo: Artisan Entertainment
When in rains Rambo reboots, it pours. According to The Hollywood Reporter, Nu Image/Millennium Films is planning to make a reboot of the Rambo films with the help of writer Brooks McLaren and director Ariel Vromen. Titled Rambo: New Blood, the film would leave out Sylvester Stallone, and instead have a younger actor take over the role. The company's intention is to build a James Bond–like franchise around the character, because, sure, why not. Last December, news broke that Fox was developing a Rambo TV show. It's unclear whether those plans are still in the works, but if they are, this has become a race to draw First Blood first.