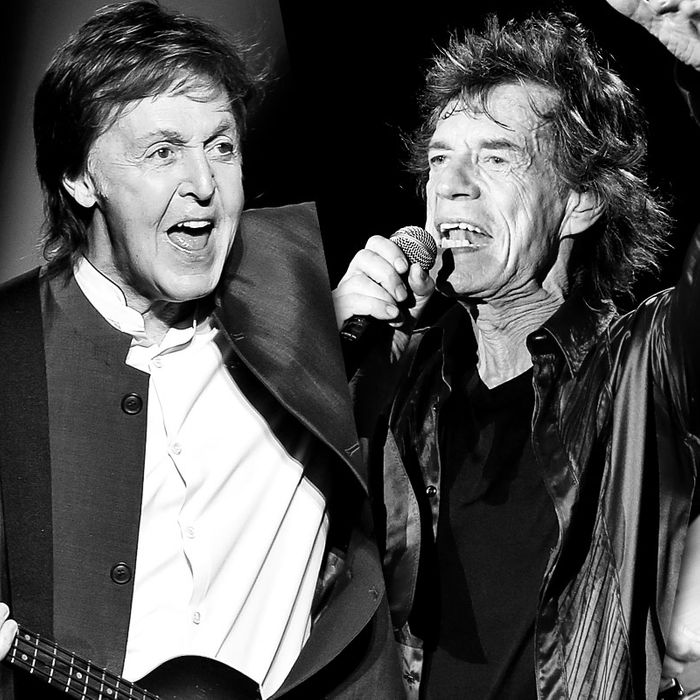 Earlier this year, the organizers of Coachella announced the first-ever Desert Trip festival, a three-day concert event featuring just six acts: the Rolling Stones, Bob Dylan, Paul McCartney, Neil Young, former Pink Floyd front man Roger Waters, and the Who. Running this weekend, "Oldchella" sold out in hours, prompting the addition of a second edition taking place a week later with the same lineup. Given that the event is geared toward baby boomers, it's no surprise that this outdoor spectacle will offer posh dining options, luxury tents, and, unlike Coachella, thousands of seats so the crowd isn't standing in the hot sun all day. Here's a by-the-numbers breakdown of this monumental festival.
13: Combined Rock and Roll Hall of Fame inductions of the performers
Paul McCartney (the Beatles, solo career), Neil Young (solo career, Buffalo Springfield), and Ronnie Wood (The Rolling Stones, Faces) have been inducted twice, while Dylan, Waters, the other three Rolling Stones, and two members of the Who all got in once.
587: Combined age, in years, of the main performers
Bob Dylan will be the oldest, at 75 years, 4 months, and 14 days, eight days older than Stones drummer Charlie Watts. Wood is the youngest, and the only non-septuagenarian, at 69.
Bob Dylan – 75 – May 24, 1941
Charlie Watts – 75 – June 2, 1941
Paul McCartney – 74 – June 18, 1942
Mick Jagger – 73 – July 26, 1943
Roger Waters – 73 – September 6, 1943
Keith Richards – 72 – December 18, 1943
Roger Daltrey – 72 – March 1, 1944
Pete Townshend – 71 – May 19, 1945
Neil Young – 70 – November 12, 1945
Ron Wood – 69 –1 June 1947

73: Number of platinum studio albums by the performers (not including compilations, EPs, live albums, etc.)
McCartney leads the way with 21: 12 as a Beatle, 9 as a solo artist or a member of Wings. Pete Townshend and Mick Jagger both have solo platinum albums (1980's Empty Glass and 1985's She's the Boss, respectively). The Stones have the most recent, with 2005's A Bigger Bang.
McCartney: 21 (12 with the Beatles, 9 as a solo artist or member of Wings; 3 Diamond: Sgt. Pepper's, White Album, Abbey Road)
Rolling Stones: 19 (18 as the Stones, one for Mick Jagger: 1985's She's the Boss)
Roger Waters: 8 (Pink Floyd had 2 without him, A Momentary Lapse of Reason and The Division Bell; 2 diamond: The Dark Side of the Moon and The Wall)
Bob Dylan: 11
The Who: 7 (6 Who, 1 Pete Townshend: 1980's Empty Glass)
Neil Young: 7 (5 as a solo artist, 2 with Crosby, Stills, Nash, & Young)
14: Divorces
Waters leads the way with four. Jagger, already a great-grandfather, is expecting his eighth child, with 29-year-old American ballerina Melanie Hamrick. Watts and wife Shirley Ann Shepherd will celebrate their 52nd anniversary on October 14, the first night of Desert Trip's second weekend.
$1,599 (plus fees): The most expensive tickets
These three-day passes get you in the standing area closest to the stage, floor seats or in the grandstands on either side of the floor, as well as access to the "Platinum Lounge" and its couches, picnic tables, restrooms, and full cash bar. The cheapest ticket is $199 for a single day on the general-admission lawn behind the seats.
$7 million: Reported minimum fee for each performer, according to Rolling Stone
"They're all getting what they're worth," Paul Tollett, CEO of organizer Goldenvoice, told the magazine.
1 year: How long it took Tollett to book the festival after meeting with every act, except Dylan, personally
$10,000: Cost of an on-site "safari tent"
Tent amenities include air-conditioning, free breakfast and snacks, private bathrooms and showers, a shuttle to the concert area, and an on-site concierge for luggage.
27: Categories on the prohibited items list
Contraband includes chain wallets, squirt guns, drugs, and pets (though, "service dogs or miniature horses that are individually trained" are allowed on a case-by-case basis).
2: Sons of Willie Nelson performing
Lukas and Micah Nelson are members of Promise of the Real, who serve as Neil Young's backing band.
11: Contestants and judges from Top Chef and its spinoffs providing food for the weekend
The reality-tinged catering team includes winners Ilan Hall, Kristen Kish, and Marcus Samuelsson. Ace of Cakes star Duff Goldman will also be present, serving food as part of packages including craft beer, cocktails, and wine that start at $129.